Britney Spears Moving To New Mansion, Leases For $25,000 A Month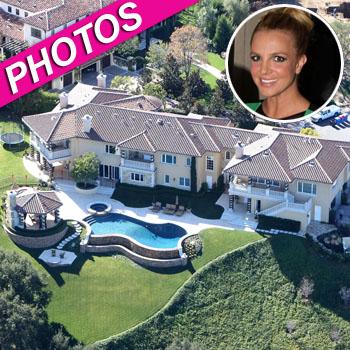 Britney Spears is on the move after splashing out on an extravagant home which is costing her $25,000 a month to lease.
The pop princess is relocating with her boyfriend, Jason Trawick and sons Preston, 6 and Jayden, 5, and there will be plenty of room for the growing boys to play. The 10,000 square foot mansion sits on almost two gated and fenced acres.
The luxury pad, just outside of Los Angeles, boasts an infinity pool, private gym, a home theater and even its own pub!
Article continues below advertisement
It's just a few miles from Brit's current home in Calabasas, which she has been leasing since January, 2009.
Spears will be settling back into SoCal for the first time in six months when she returns from her world tour, which came to an need in San Juan, Puerto Rico on Saturday night.
As RadarOnline.com reported, the singer's family came out in force to support her as she waved goodbye to her Femme Fatale tour.
Her boyfriend Jason, mom Lynn, both her sons, sister Jamie Lynn and niece Maddie all came on stage as she took her final bow.
When Spears returns to Los Angeles this week, she'll be preparing for the move to the new home and also deal with some pending legal business.
She is no doubt hoping her conservatorship will be lifted during a hearing on December 14, and then perhaps there will finally be a wedding to plan for her and Trawick.