Exclusive
Taylor Armstrong & Daughter Receive Death Threats: FBI Involved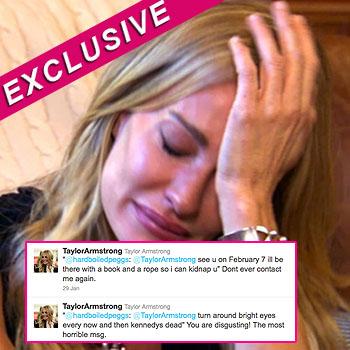 By Jen Heger - Radar Legal Editor
The Real Housewives of Beverly Hills star Taylor Armstrong got several serious death threats on Twitter, Sunday night, and the FBI has been contacted, RadarOnline.com is exclusively reporting.
On January 29, Taylor was sent a Twitter message by @Hardboiledpeggs which said, "see u on February 7 ill be there with a book and a rope so i can kidnap u," which Taylor responded by saying, "Don't ever contact me again."
Article continues below advertisement
The next threatening message mentioned Taylor's daughter, Kennedy: "Turn around bright eyes every now and then, Kennedy's dead," @hardboiledpeggs wrote. Taylor replied, "Don't ever contact me again." The Twitter user @hardboiledpeggs has since been deleted. Armstrong has a book signing event scheduled on February 7 in New Jersey, and law enforcement sources tell RadarOnline.com that she will have increased security.
The 40-year-old Texas beauty was out of town skiing in Vail, Colorado when she received the ominous threats. "Taylor absolutely freaked out when she read the death threats. These were credible serious threats against Taylor and her daughter, Kennedy. The Tweets that were sent to Taylor have been turned over to the FBI," a law enforcement source tells RadarOnline.com.
It's been a rocky road recently for the Bravo star after her husband, Russell Armstrong, committed suicide last summer because of financial woes. Taylor's new memoir Hiding From Reality details the violent beating she endured, claims she was called names in front of her daughter, and that he secretly spied on her during their marriage.
Article continues below advertisement
"Taylor will be consulting with security professionals and assess what changes she needs to increase," the source says. "Her first concern when she got the threats was Kennedy, but her daughter is safe, and that is all that matters to Taylor. She will do whatever is necessary to protect herself and Kennedy. Taylor is assisting the FBI with the investigation, and she wants the person responsible for the the threats prosecuted."