Joran Van Der Sloot's 'Guardian Angel' Hangs Up Her Wings, Resigns From Case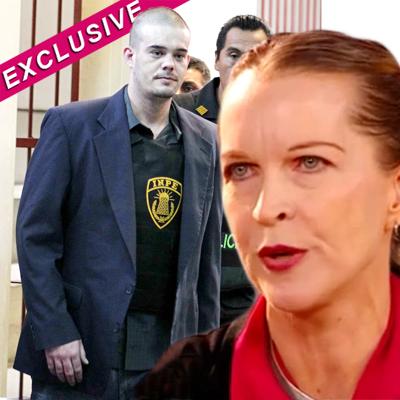 The woman dubbed the "guardian angel" of convicted killer Joran van der Sloot has issued a bizarre resignation letter saying she "accepts defeat" in the case.
RadarOnline has exclusively received the note from Mary Hamer, which she addressed to, among others, President Obama, Beth Holloway and Joran himself.
Hamer had paid around $100,000 in legal fees for the 24-year-old Dutchman during his murder trial. He was convicted on January 13 of beating and strangling Peruvian business student Stephany Flores after she found out he was a suspect in the disappearance of an Alabama teen from Aruba in 2005.
Article continues below advertisement
She told Anderson Cooper last week that she did not believe Joran was manipulating her and continued to plead his innocence. But now the American doctor rants in her resignation letter about the U.S. and Peruvian governments, insists that she is now poor having sacrificed her life savings and her fears that Joran will die from a drugs overdose.
As RadarOnline.com previously reported, Joran's health has deteriorated since being moved to a maximum security prison in Peru following his sentence of 28 years for the May 2010 murder of Flores.
He is now appealing the prison term.
Read the full resignation letter here:
RESIGNATION from the JORAN Van der SLOOT's Case. 1/29/12.
Chief Joseph of the Nez Perce: I Will Fight No More Forever.
Dear President Obama, President Humala, Beth Holloway, the Flores family, the Media & Joran Van der Sloot:
*RESIGNATION: I, Mary Hamer officially & formally am resigning from my spiritual & civil rights advocacy work on behalf of Joran Van der Sloot. I am only one person who is outperformed by the powerful U.S. & Peruvian governments. The U.S. government & Peru have won the battle. I lose. I accept defeat.
Article continues below advertisement
#1. U.S.: For example, I have filed many Freedom of Information Act requests & Appeals to the U.S. Government including an investigation of redacted, a request to subpoena redacted emails & the Video Surveillance equipment & the laptop Death threat of May 30, 2010 – With NO results. The only information I gained was that the Alabama District Court sealed document is Missing which Joran states redacted destroyed. Overall, I believe that redacted illegally entrapped Mr. Van der Sloot in the Hotel Tac Room #309 on May 30, 2010 – that lead to the death of Stephany Flores & the murder conviction & 28 year sentence of Joran Van der Sloot. & Yet I am told by the U.S. government that redacted privacy is #1. priority.
#2. PERU: Each time I fight for Joran's civil rights with the Peruvian government Joran & I are punished; For example, in December 2011 I complained to the Peruvian government about the negligent medical care at Castro prison including the negligent prescription of Tramadol, Clonazepam, MAO anti-depressants, Flexeril & Valium; I told the Peruvian government that this is an Addictive, toxic & suicidal mix of drugs. As a result of this complaint Joran was punished with Solitary confinement & I was banned from the Castro prison forever.
Article continues below advertisement
MANSLAUGHTER: Joran did Not commit murder. Joran committed Manslaughter with Stephany Flores' provocation; Joran had PTSD Diminished Mental Capacity & He was in a state of Self-Defense from years of a destroyed Self-esteem.
*PERSONAL RISK: I have fought fervently on behalf of Joran Van der Sloot with NO results. I have sacrificed my life's savings & I am now poor. I have risked death threats. I have been banned from Western Union because of my FBI investigation. The Castro guard Guebarra said that I Mary Hamer can not visit Joran Van der Sloot because I talk to the media; Therefore, I have NO freedom of speech in Peru.
*DRUGS: I have told Joran that as a Medical Doctor I have a Zero tolerance policy for illegal drugs. For example, I do not condone Marijuana which has many bad side effects including brain damage, breast enlargement & lung cancer. Also, I do not approve of South American cocaine paste or Paco. & I do not condone heroin.
*PEACE EFFORTS: I have made many efforts to Unite & Heal: The U.S., Peru, Beth Holloway, the Flores family, Anita Van der Sloot & Joran – But all parties have rejected my Olive branch of Peace & my Gandhi Non-Violence program. Anita told me that quote: Some Lives are Not to Save!
Article continues below advertisement
*FEARS: I fear that Joran Van der Sloot will die of a Drug overdose or that he will be Murdered by a guard or another prisoner in the Peruvian Prison system; I will hold the Peruvian & U.S. governments responsible if Mr. Van der Sloot dies during his 28 year sentence. I also fear that Joran will contract Tuberculosis in prison. Also, regarding solitary confinement, the United Nations considers isolation a form of torture.