Joran's Guardian Angel: 'I Stand For Ethics, Gandhi, Martin Luther King'... And, Van Der Sloot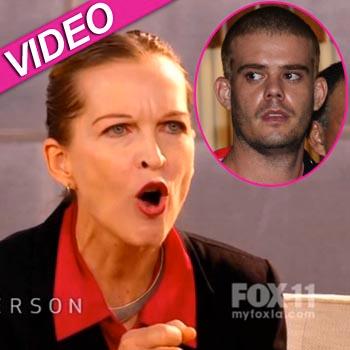 Article continues below advertisement
When asked if she was attracted to the devious murderer who is 31 years her junior, the Lake City, Florida woman replied adamantly: "It would be a fraud if there was a romantic relationship between Joran and me.
"I stand for ethics, and Gandhi and Martin Luther King. It would invalidate everything I did."
Anderson went on to point out, "But you do want him to come live with you?" to a burst of laughter from the audience. "Do you know how crazy this sounds?"
Hamer argued that she had appealed to the president of Peru and Barack Obama for the release of van der Sloot.
As RadarOnline.com previously reported, earlier in the interview Mary, 55, shocked the CNN anchor when she told him she didn't think manipulative murderer Joran was "playing her."
"You have asked for money back. You have given a total of how much money -- about $100,000?" Anderson asked Mary incredulously.
Article continues below advertisement
"And you had also sent money before that, how much money before that had you sent?" he inquired.
"I sent $16,500 before that for attorney's fees and I asked Mr. Jimenez van der Sloot's lawyer to acquire an FBI document from the Peruvian court system, and several other things," Mary explained.
"I still believe he's innocent. I still don't know who killed Stephany Flores. There are too many unanswered questions," she told Cooper.
As Hamer campaigns on her pen pal's behalf, Joran's health has been on a downward spiral since he was moved to maximum security prison Piedras Gordas in northern Lima in response to criticism that his living conditions were too comfortable.
"His health has suffered and he is not doing well there," an insider exclusively told RadarOnline.com. "Joran blames the food and the water, he says that he is depressed and feeling weak all the time."
Article continues below advertisement