Cynthia Nixon Goes Bald! Shaves Her Head For New Role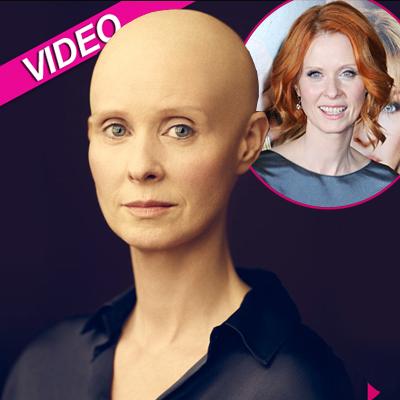 By Alexis Tereszcuk - RadarOnline.com Senior Reporter
Cynthia Nixon isn't going to have any more bad hair days!
The Sex and the City star debuted a shocking bald head on Tuesday and talked about her decision to get rid of her trademark red locks for her part as a terminal cancer patient.
Appearing on Live! With Kelly, the 45-year-old said her new bald head is surprisingly high maintenance. "I thought it was kind of gonna be no muss-no fuss, but I have to shave it every day!" Nixon revealed. "It's got kind of a five o'clock shadow, and you don't want to go on with that," she said.
Article continues below advertisement
"I was always kind of curious to see what it would be like. I like it; I don't think I'm gonna keep it forever."
Cynthia is starring in a new play, Wit on Broadway and she can relate to her character who has terminal cancer after her successful battle with breast cancer in 2008.
"She's really at the top of her profession," she says of the character. "She's a professor of 17th century poetry. She's the best; she knows she's the best. She gets a really bad cancer diagnosis and she goes through this really heavy-duty chemo and she meets that challenge, but she learns a lot about herself."
MORE ON:
hollywood happenings
As RadarOnline.com previously reported, Nixon recently opened up about her sexual preference and said that she "chooses" to be gay.
"Why can't it be a choice? Why is that any less legitimate? It seems we're just ceding this point to bigots who are demanding it, and I don't think that they should define the terms of the debate. I also feel like people think I was walking around in a cloud and didn't realize I was gay, which I find really offensive. I find it offensive to me, but I also find it offensive to all the men I've been out with."