Exclusive
Little 4-Year-Old Girl Diagnosed With Stage 4 Cancer: 'She's So Strong,' Says Mom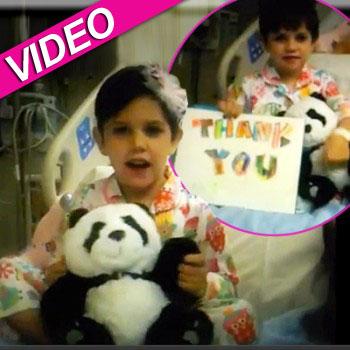 By Amber Goodhand - RadarOnline.com Reporter
When four-year-old Alexandria Hauser was diagnosed with stage 4 cancer on Thanksgiving Day it affected everyone in her life, but her mom exclusively tells RadarOnline.com it's her "babygirl's positivity" that's keeping everyone strong.
Katie Hauser, a single mother of two from Long Beach, California, explains the chemotherapy, surgery, head shaving and so on that her daughter has already endured -- and what the future holds for them.
Article continues below advertisement
"Alexandria was diagnosed with stage 4 cancer on Thanksgiving Day. We were told it 'seemed like' a Wilms' tumor, which is one of the most common cancers for children; kidney cancer. After many tests the diagnosis was confirmed," Katie told RadarOnline.com.
"After her tests came back they decided we would do a course of chemotherapy before taking the kidney out. This meant about six weeks of chemo treatment before surgery, mainly making sure the tumor would shrink enough in size for it to be an easier surgery procedure."
Little Alex had her kidney removed on Monday, along with some lymph nodes in the surrounding area, but will still have to undergo further chemotherapy treatments.
"She is really doing great. She sat up (this is big) and even wanted to ride in the wagon to go into the playroom which is huge! We were all so pleased to learn that the first course of chemo was enough to make surgery happen," Katie said.
Article continues below advertisement
"Now it's all about making sure none of the cancer sticks around. Once Alex is back on her feet (about a week or so) we will start our next course of chemotherapy and also some radiation. She will have eight days of radiation to her lungs -- stage 4 cancer is when the tumor breaks off and spreads into other areas, and in her case it has made it's nasty little way into her lungs -- and 10 days of radiation to her kidney area."
A fundraiser was held for Alex and her family on Tuesday night at Yankee Doodles in Long Beach to help raise money for the mounting medical bills, which her mother will be struggling to pay off in the future.
"She's the strongest little girl I know," Katie said of her daughter. "We are staying nothing but positive during this time, and are surrounded by love and support by so many amazing people. Thank you for your love, positivity, prayers and continued support."
To make a donation to Alex click here and be sure to check out her story below in her own words.