NEW ON YOUR RADAR: Breakout Stars Of The Year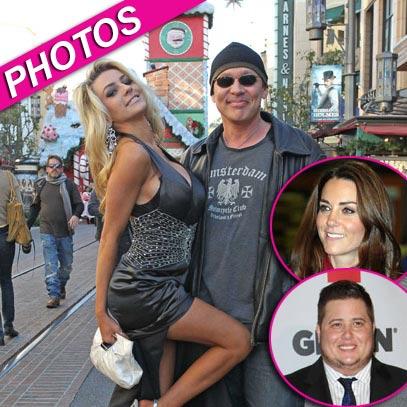 2011 proved to be a British invasion of sorts as Kate and Pippa Middleton both secured numerous front covers on the weeklies, Daphne Guinness moved from the fashion mags to the gossip rags, Rosie Huntington-Whiteley made her big screen debut and the Ecclestone sisters, Petra and Tamara hit U.S. soil.
Kate Middleton was obviously front and center as the blushing bride of Prince William at the royal wedding of the year back in April, but her little sister Pippa almost managed to steal the limelight. Dubbed 'Her Royal Hotness' by the British press, the 27-year-old gained many a column inch with speculation that she may have added a little padding to her perfect posterior!
Article continues below advertisement
British socialite Petra Ecclestone nearly managed to outdo the royals with her own, opulent, $18 million wedding to James Stunt. The daughter of Formula One head honcho, Bernie Ecclestone, became a media darling with the news that she had purchased Candy Spelling's Holmby Hills sprawling mansion for a cool $85 million.
Petra's big sister, Tamara also appeared on our radar with news that U.S. network executives are eager to sign-up the 27-year-old for an American based reality show.
Rosie Huntington-Whiteley has long been a stalwart on the modeling scene as a Victoria's Secret favorite. But Jason Statham's main squeeze really upped the ante in the fame stakes when she landed a role in Transformers 2, taking over from Megan Fox as the leading lady.
Daphne Guiness has graced the pages of the style press for ions with her wacky fashion sense, but the heir to the Guinness brewing fortune hit our radar after the release of a new book offering a fascinating peek inside her eccentric life. Known for outrageous statements such as "I'll eat when I'm dead," the 43-year-old icon offered her fans insight into her obsession with fashion, her bourgeoisie upbringing and why she is grateful to be thin in the photo-filled coffee table tome.
Article continues below advertisement
She may not be British, but she is European, royal, and as eccentric as they get! Spain's 85-year-old Duchess of Alba hit the headlines following her marriage to her 61-year-old boy toy civil servant Alfonso Díez. The octogenarian, also known as Maria del Rosario Cayetana Alfonso Victoria Eugenia Francisca Fitz-James Stuart y Silva, loves to rub shoulders with Hollywood's elite, and was recently spotted on the arm of Tom Cruise on the red carpet of the Spanish premiere of Cruise's latest action movie, Mission Impossible: Ghost Protocol in Madrid.
It seems impossible to remember a world without Teen Bride Courtney Stodden! The bodacious blonde blasted onto the scene following news of her shocking wedding at the age of 16 to Green Mile star Doug Hutchison, 51. With her PDAs, outrageous tweets and super, super sexy outfits, we are sure to be seeing more of Courtney in the future.
And, Chaz Bono went mainstream after signing on for Dancing with the Stars. The transgender daughter-turned-son of Sonny and Cher won many hearts in America, and plenty of haters, before being eliminated from the hit ABC show after a six week stint.