'Teen Bride' Courtney Stodden Hikes In 7 Inch High Heels, Dishes On Disastrous First Kiss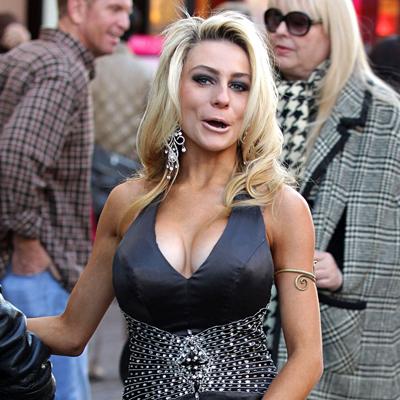 By Alexis Tereszcuk - Radar Senior Reporter
Courtney Stodden is an open book, and one that you just can't put down.
The controversial Teen Bride Tweets her every sexually provocative thought, but there are still some things you don't know about her.
She's a vegetarian. Yep, she told Zap2It in a new interview that she doesn't eat meat. "I believe in the rights of animals & respecting them. They are angelic creatures and deserve to be treated so," Courtney said.
Article continues below advertisement
In her free time, she hikes - in high heels!  "I love taking invigorating hikes with my precious pink pooch Bazaar and my mother throughout the hills of Hollywood. Oh and did I mention that I do that in 7-inch stilettos?! ;)"
Her kissy face with her 51-year-old actor/hubby Doug Hutchison is legendary, but how was her first smooch?
"It probably wasn't considered 'a good one' for my 1st grade classmate. It was the kind of relationship where the boy absolutely loved the girl...but the girl...the girl thought he had major cooties!" She shares. "One day at school, this boy finally got up the courage to run up to me & try to sneak me a smooch for his own satisfaction...but what he didn't see coming was a slap to the face!
"I immediately reacted and hit him as hard as I could across his face as he fell to the ground and realized that his offering was completely rejected - but that didn't stop him from loving me - and his kiss didn't stop me from thinking he had cooties."
Courtney is getting ready to show off another side, her funny side. 
As RadarOnline.com first reported, her Funny or Die video directed by Jason Alexander will debut on Thursday.