Meet Petra Ecclestone –The 22-Year-Old Who Bought Candy Spelling's Home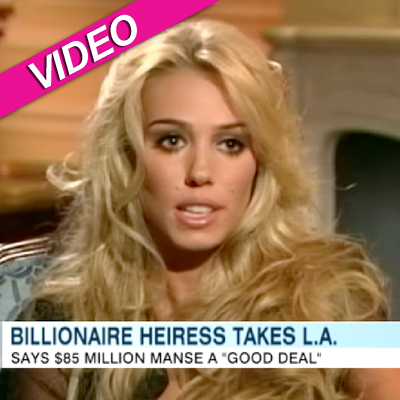 Hollywood's newest "It" girl Petra Ecclestone gave her first in-depth interview in the states on Friday to ABC News, opening up about her palatial new digs, her celebrated family roots, and a certain socialite she's frequently been compared to.
The exquisite English import, who's branching out to Los Angeles, turned heads when she plunked down a reported $85 million in cash for Candy Spelling's massive 57,000-sq. foot Holmby Hills mansion last month.
Article continues below advertisement
"It was a great investment," said Ecclestone, who also owns a $90.9 million, six-story house in Chelsea, England. "I got a really good deal."
Meet The Ecclestones - Photos Of Petra And Her Family
The 22-year-old daughter of Formula One head Bernard Ecclestone, whose net worth Forbes last year estimated as $4 billion, said the new house fit her needs, as she "wanted to move to L.A. ... wanted to have an amazing home and hopefully, in the future, I'll be raising a family there.
"My family from London will be coming to visit, so I need loads of space. But it really was a great investment ... I just kind of buy prime real estate that I know hopefully won't go down in value."
And just because daddy's a billionaire, don't think Petra's the type to watch the grass grow all day.
"I'm a hard-working girl. I go to the office. I work a normal 9 to 5 job most days," she said. "My mom came from such humble beginnings and especially my dad as well: He didn't go to university, he kind of worked up from the age of 15 and now he's nearly 80, and he's still working hard.
Article continues below advertisement
"And he doesn't need to work!"
Watch the video on RadarOnline.com
A fashion designer by trade, and focal point of the UK tabloids, the Croatian-English stunner is slated to get married in August to her boyfriend of four years, English jetsetter James Stunt.
In the chat, Ecclestone drew comparisons between she and another famous rich blonde beauty, Paris Hilton.
"There's always going to be some kind of comparison because, obviously, the Hiltons are seen as heiresses, and they come from a good family or whatever and they're sisters," Ecclestone said. "I think what Paris Hilton has done with herself and the brand is really clever.
"She's a really clever businesswoman."