Exclusive
PHOTOS: Hollywood Puts Out The 'For Sale' Sign This Summer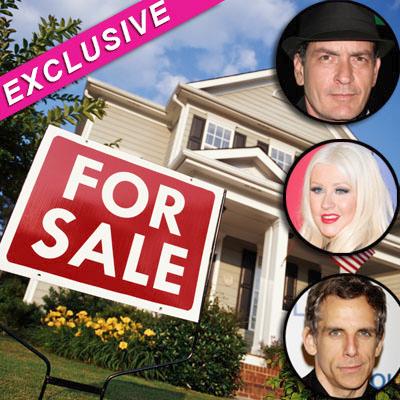 RadarOnline.com Staff Reporter
RadarOnline.com Staff Reporter
Summer has officially begun and a whole host of celebrities have been pitching the 'For Sale' sign on their front lawns.
Stars like Charlie Sheen, Christina Aguilera, Ben Stiller and Ozzy Osbourne are all looking for new digs to rest their famous bones.
So, if your lottery ticket comes up a winner, RadarOnline.com has the lowdown on some of the best celeb real estate deals currently on the market.
Article continues below advertisement
And who knows -- in these recessionary times -- if you were to knock on their door they might offer you a special deal!
Fallen former Two and A Half Men star Charlie Sheen has put his infamous 'Sober Valley Lodge' in gated Mulholland Estates up for sale for a cool $7.4 million. The Mediterranean style villa is a Playboy's dream and boasts five beds and baths, plus a state of the art media room, large pool and private spa.
Just a few miles away another fallen pop diva, Christina Aguilera, is looking for a fresh start too - by putting her Beverly Hills Spanish style house on the market for a whopping $13.5 million.
Amenities include a pool with a water slide, grotto spa, movie theater and a pagoda inspired outbuilding.
Rock hellraiser Ozzy Osbourne, who sold Aguilera her home, is trying to off-load his Malibu beach property for a meager $10 million. The European beach villa boasts an Italian style garden, stunning ocean views and five beds and baths to boot.
Article continues below advertisement
The Beaver star and director Jodie Foster has put her modest seven-bedroom, eight-bathroom mansion on the market for $9.975 million.
Her asking price for the Beverly Hills home is up $1.875 million from what the Oscar-winning actress originally paid in 2005, but the backyard oasis is sure to wow a buyer.
Funny guy Ben Stiller is also looking to sell his beautiful Los Angeles home, but at $11.5 million the price is no joke.
The estate actually features two separate homes -- one Spanish style mansion and a Mediterranean style one-bedroom guest house all nestled in stunning Bel Air Hotel inspired gardens.
Mirror, mirror on the wall...which celebrity home is most expensive of all?
Daytime talk show host Ellen DeGeneres and her wife Portia are selling their enormous Beverly Hills estate. Asking price? $49 million!
The A-list power couple spent years customizing the compound, which includes the main house, a separate guest or staff quarters and extensive grounds, as well as two additional houses on adjacent lots.
Article continues below advertisement
By the way, the price bumps to $60 million if you want those "adjacent lots."
VIDEO: Tori & Candy Spelling, Both Selling!
And if movie history is what you are looking for then why not try and buy the classic home from the 1990 hit movie Home Alone.
The stunning Colonial style house in Winnetka, Illinois, is on the market for a mere $2.4 million -- a bargain considering it is 4,250 sq. ft. and boasts four bedroom suites on a half acre lot.
Not to mention the fact that it is kid friendly too!