Exclusive
Michael Jackson's Children 'Pleased & Relieved' Conrad Murray Convicted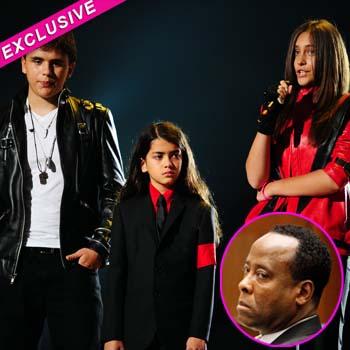 By Jen Heger - RadarOnline.com Legal Editor
Michael Jackson's oldest two children, Prince and Paris were "extremely pleased and relieved" that Dr. Conrad Murray was found guilty of killing their father, RadarOnline.com is exclusively reporting.
Murray was found guilty of involuntary manslaughter for the death of Michael Jackson on June 25, 2009. Jackson died from acute propofol intoxication.
As soon as the verdict was read in court, Katherine Jackson met privately with Deputy District Attorney David Walgren, and "broke down in tears as she thanked him for bringing Michael's children justice. It was very emotional. Walgren had hammered home the point to the jury that Michael's three children didn't have a father because of Conrad Murray. Katherine gave the DA one final hug before leaving and said, 'Now I can go home and tell the children that he has been found guilty.' Katherine doesn't like to say Murray's name," a Jackson family insider tells RadarOnline.com.
Article continues below advertisement
Katherine wanted to get home as quickly as possible after the verdict had been announced so she could tell Prince, Paris, and Blanket that Murray was found guilty and behind bars.
"Katherine sat all three children down together, and told them. Prince and Paris were very pleased and relieved that Murray had been found guilty. Blanket didn't ask many questions, he is so young," the source says. "Prince wanted to make sure that his grandma was ok, he knew the toll the trial had taken on her. Paris kept asking Katherine if there was any chance Murray would be able to harm someone else. Paris is extremely sensitive, and she hopes that Murray isn't allowed to practice medicine ever again."
"The children were surprised that Murray was placed in jail. Paris kept asking Katherine, 'what will happen to the doctor in jail?' Katherine responded that she didn't know, and changed the subject," the Jackson spy asserts.
As RadarOnline.com previously reported, Prince and Paris wanted to testify at the trial, but the DA decided against putting the children on the stand.
"Prince is telling Katherine that he wants to formally talk to the judge on Murray's sentencing day," the source says. "Nothing has been decided yet, Katherine doesn't want him anywhere near the sentencing though. She is encouraging the children to write letters to the judge, formal victim impact statements that could be read aloud by a Jackson family member at the sentencing on November 29. The contents of the letters could remain private, and for Judge Pastor to review only."
Article continues below advertisement