Exclusive
Conrad Murray Has 'Better Chance of Being Struck By Lightening' Than Getting Probation For Killing Michael Jackson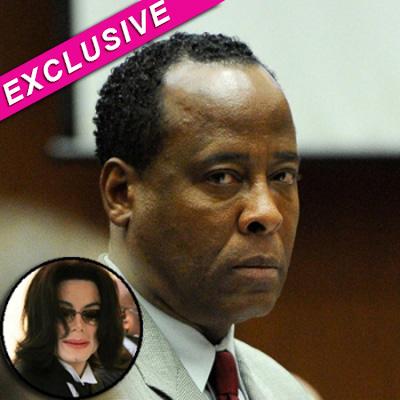 Dr. Conrad Murray has a better chance of being struck by lightening, than getting probation for killing Michael Jackson, according to a source, RadarOnline.com is exclusively reporting.
Reports circulated yesterday that Conrad Murray's lawyers were going to ask Judge Michael Pastor to sentence Murray to probation at the convicted felon's sentencing hearing on November 29, 2011 for killing Michael Jackson.
Article continues below advertisement
The King of Pop died on June 25, 2009 from acute Propfol intoxication.
"Conrad Murray's lawyers can ask that their client be given probation, but he has a better chance of being struck by lightening than the judge granting their request," a source close to the situation tells RadarOnline.com. "The fact that Judge Pastor remanded Murray into custody immediately following his conviction, well, that was clearly a sign to the defense that Judge Pastor will most likely impose the full four year prison sentence to the convicted killer."
Jail overcrowding in California dictates that if Murray is sentenced to four years in state prison, he would serve about half of that sentence in a county jail. Murray's lawyers are hoping that if Judge Pastor does impose the full sentence, their client would be released on house arrest because the conviction is considered a non-violent felony.
"Murray's lawyers shouldn't be counting on house arrest, period. Each house arrest inmate has their case thoroughly reviewed by jail officials. Judge Pastor can order that Murray not be eligible for house arrest, but the final decision is up to the Los Angeles County Sheriff's Department. The DA, David Walgren will ask that the judge sentence him to four years in jail," an insider tells RadarOnline.com.
Article continues below advertisement
There was a contempt hearing Wednesday morning stemming from Dr. Paul White's comments that he made to the press about Deputy District Attorney David Walgren. The judge had imposed a gag order during the trial, and Dr. White called the DA a "scumbag" during Walgren's questioning of Dr. Steven Shafer.
"Dr. White deliberately put out evidence that was not allowed, intentionally tried to throw the case in an attempt to deny the People a fair trial," Walgren said in court. Judge Pastor agreed and fined Dr. White $250. The doctor asked if he could have 30 days to pay the fine, and the judge agreed.