Dr. Conrad Murray: 'I Don't Feel Guilty, Because I Did Not Do Anything Wrong'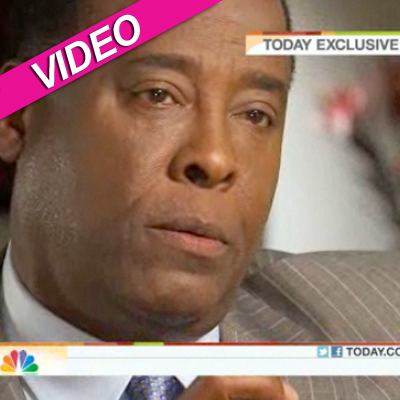 By Adam S. Levy - Radar Staff Writer
Dr. Conrad Murray, convicted of involuntary manslaughter in the death of Michael Jackson, broke his silence with The Today Show's Savannah Guthrie, in an interview that was conducted prior to Monday's verdict being announced.
"I don't feel guilty, because I did not do anything wrong," the Grenada-born doctor told Guthrie. "I am very, very sorry for the loss of Michael ... Michael is a personal friend. It's heartfelt. It's been painful."
Article continues below advertisement
Despite records that show Murray was actively using his cell phone for e-mails and phone calls the day of June 25, 2009 when Jackson died at the age of 50, the doctor insisted he wasn't distracted from caring for the King of Pop, but rather wanted to give him some space to rest.
"I looked at a man all night deprived of sleep, who was so desperate for sleep and finally is getting some sleep, am I going to sit over him, sit around him, tug on his feet, do anything unusual to wake him up?" said Murray, 58. "No ... I wanted him to rest."
Asked about his legal defense that Jackson administered himself the fatal dose, Murray stayed coy.
"Something happened when I was not in that room," he said. "As to how it happened and the mechanisms, I don't know that."
Murray said if he had known what he "knew today in retrospect ... if Mr. Jackson was an addict and he had shared that information with me ... addicts may behave in a way that is unreasonable and you may consider" adjustments to the patient's treatment.
Article continues below advertisement
Watch the video on RadarOnline.com
Murray said he didn't tell paramedics at the scene about the propofol injection "because it was inconsequential ... it was not an issue."
Toward the end of the Q&A, Guthrie interrogated with doctor with hard-hitting questions about the circumstantial evidence the jury likely used as reason to convict him.
"Just before paramedics arrived, the security guard testified Dr. Murray asked him to put empty vials and bottles into a bag. If you add all of this up -- you don't call 911 for 20 minutes, you don't tell the paramedics or the ER docs about the propofol but you mention other drugs ... the body guard says you're in the room telling people to clean up the vials," Guthrie said.
"It sounds like you knew you had done something wrong and you were trying to cover your tracks," she told Murray.
He replied, "Well, if that's the way it appears to you, I think, unfortunately, you have the wrong perception."
Guthrie shot back, saying that "experts have said that if you hadn't delayed, if you had actually called 911 right away, there's a chance Michael Jackson would still be alive."
"I think experts can say whatever they want without a full deck," Murray responded, "but who knows? By the time I discovered him, had he not died."
Article continues below advertisement