Exclusive
Dr. Conrad Murray's Video Interviews Could Haunt Him At Sentencing Hearing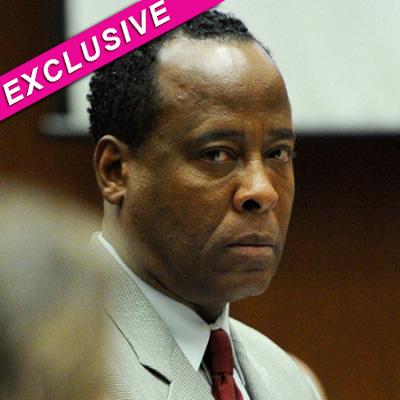 Dr. Conrad Murray's decision to participate in a documentary about the Michael Jackson death trial could be used at his sentencing hearing on November 29, RadarOnline.com is exclusively reporting.
The convicted felon sat down with the Today Show before being found guilty of killing Jackson on June 25, 2009.
"I don't feel guilty, because I did not do anything wrong, I am very, very sorry for the loss of Michael... Michael is a personal friend. It's heartfelt. It's been painful," Murray told Savannah Guthrie.
Article continues below advertisement
Murray's interview with Guthrie, and a British reporter, as well as the documentary which aired in the U.S. on MSNBC last Friday, could be played by the District Attorney at the sentencing hearing.
"The DA is considering playing excerpts of Murray's interviews. It's admissible, and completely legal. It's very compelling evidence, as Murray told the investigating officers a very different series of events that took place, than what he revealed during what was aired on television," a law enforcement source tells RadarOnline.com.
"Walgren hasn't decided if he is going to play the interviews, but it only makes his case stronger that Judge Pastor should sentence Murray to four years in state prison because of his inability to tell the truth, on a consistent basis."
As RadarOnline.com previously reported, the executors of Jackson's estate, John Branca and John McClain, blasted NBC for airing the documentary. The executors fired off a letter to the network which said, "No sooner was Conrad Murray ordered led away in handcuffs after his conviction on manslaughter charges in the death of Michael Jackson than we discovered your MSNBC network inexplicably will showcase him in primetime Friday night as if he is worthy of celebrity.
Article continues below advertisement
DOCUMENT: Michael Jackson Estate Fire Off Blistering Letter Over Conrad Murray Documentary
"Dr. Murray's victim, Michael Jackson was a loving father, an incredible talent and someone who had much left to give the world. Dr. Murray is a convicted felon who a judge felt compelled to have placed in handcuffs and jailed immediately after the jury delivered its verdict. He is not someone NBC Universal should be giving a platform on a prime-time pedestal."
The documentary also highlighted the bickering between Murray's lawyers, Ed Chernoff and Michael Flanagan. RadarOnline.com was first to report that during the trial, things had gotten so bad between the two lawyers, that Chernoff, who lives in Houston, moved out of Flanagan's Southern California home. Chernoff had been staying with Flanagan to save his client money.
During one shocking scene of the documentary, Flanagan says, "F**k you," to Chernoff during an argument over the defense strategy. Murray criticized Flanagan by saying, "I take offense when my damn attorney is not prepared for that man," referring to prosecution witness Dr. Alon Steinberg.