Exclusive
Dr. Conrad Murray Hoping To Be Home For Christmas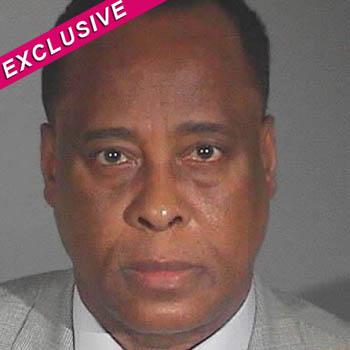 By Jen Heger - Radar Legal Editor
Dr. Conrad Murray could be released on house arrest by Christmas, to serve the remainder of his jail sentence for his role in the death of Michael Jackson, RadarOnline.com is exclusively reporting.
Judge Michael Pastor imposed the maximum allowed sentence -- four years in jail -- on Jackson's former doctor on Tuesday, and because of overcrowding in California correctional facilities, Murray wasn't sent to state prison, but to Los Angeles County Jail. The cardiologist's sentence was automatically cut in half, and Murray is eligible for house arrest because he is considered a non-violent felon.
Article continues below advertisement
"Dr. Murray's lawyers are actually relieved that Judge Pastor didn't sentence him to community service, they didn't want him doing manual labor at the morgue, like Lindsay Lohan is doing. That would have been an absolute nightmare for him, as he would certainly be mocked, and it wouldn't have been safe for him to be picking up trash on the freeway or cleaning up graffiti," a source close to the situation tells RadarOnline.com.
"Judge Pastor actually did Murray a favor by maxing him out,"
The decision to release Dr. Murray on house arrest will personally be approved by Sheriff Lee Baca. "The Sheriff will determine when Dr. Murray will be released on house arrest. Dr. Murray is hoping that he will be released by Christmas. His lawyers have told him that is a real possibility," the insider says.
As RadarOnline.com previously reported, Deputy District Attorney David Walgren said on The Today Show, "I think he certainly deserves the full weight of the punishment and he certainly deserves the full four years...How much time he actually serves at the end of the day will be up to the sheriff."