Dr. Conrad Murray's Family & Friends Begging For Leniency At Sentencing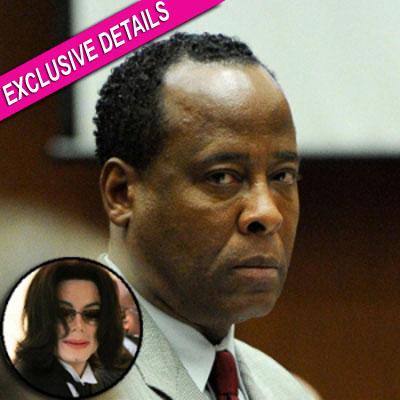 By Jen Heger - Radar Legal Editor
Lawyers for Dr. Conrad Murray and members of his close family are begging Los Angeles Judge Michael Pastor for leniency when he sentences the Houston-based cardiologist at 8:30 am PST Tuesday for his role in the death of Michael Jackson.
Murray was found guilty in October of involuntary manslaughter in the June 25, 2009 death of the King of Pop and could be sentenced to four years in state prison. Deputy District Attorney David Walgren will ask Judge Pastor to impose the maximum sentence, while Murray's legal team and his family are asking the judge to impose probation instead of sending him behind bars.
Article continues below advertisement
Dr. Murray's baby mama, Nicole Alvarez, who testified at the trial about Propofol shipments she received at her house, has written the judge a letter imploring that the embattled doctor not be sent to prison.
"I would like to address my personal relationship with Dr. Murray. He is the father of my two year old son. I would like you to know how monumental he has been in my son's life. He is absolutely an outstanding father who cares for all of his children," Alvarez states. "Even throughout the duration of the trial he has been an active participant in caring for our son...This was a very unfortunate tragedy. A human situation can happen to anyone. And in one moment your life is in the hands of others, all that one has worked for is gone.
"In my opinion, Conrad Murray has already suffered. He's already lost. More importantly he has lost a dear friend/patient, he has lost his freedom, his home, and his livelihood. He has been the subject of worldwide public scrutiny. I am no one to tell you what you should deem necessary as Conrad Murray stands before you on November 29, 2011. But what I can say is that Conrad is a non-violent, harmless individual that overflows with love, compassion and respect for all. Please truly consider all these factors."
Article continues below advertisement
Dr. Murray's mother, Milta Rush, Nicole Alvarez's father, Enrique, several doctors, patients, and friends have also sent letters to the judge asking for community service and/or probation instead of prison.
Meanwhile, as RadarOnline.com previously reported, Murray has told his lawyers he wants to personally address Judge Pastor.
"Dr. Murray wanted to testify at his trial, and feels that if he had, there is no way he would have been convicted. Murray is livid that his lawyers didn't put him on the stand and has said he plans on pleading with Judge Michael Pastor for mercy. Murray will admit no guilt, and not take any responsibility for his actions. Murray plans on appealing and wants the judge to give him probation only for killing Michael Jackson," a source close to the situation tells RadarOnline.com.
Deputy District Attorney David Walgren, and Murray's lead lawyer, Ed Chernoff, will make brief comments during the sentencing hearing, and the Jackson family could also make victim impact statements about how Michael's death has affected their lives. It's unclear if Dr. Murray will make any comments Tuesday.
The District Attorney also wants Murray to pay $100 million dollars in restitution and the cost of Michael's funeral to his three children.
Article continues below advertisement
If Judge Pastor imposes the maximum of four years for Dr. Murray, because of prison overcrowding in the state of California, Murray would likely only serve half of that sentence in the Los Angeles County Jail as involuntary manslaughter is considered a non-violent felony, therefore avoiding state prison.
Stay tuned to RadarOnline.com for developments on the story, and we will be live streaming the proceedings.