Dr. Conrad Murray Sentenced To Maximum 4 Years In County Jail, Doesn't Address Court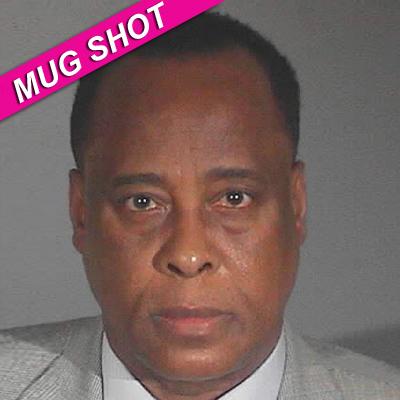 Dr. Conrad Murray has been formally sentenced to four years in the Los Angeles County Jail by Judge Michael Pastor for his role in the death of pop superstar Michael Jackson.
Prior to sentencing, Murray did not address the court; neither did any member of the Jackson family. Rather, Brian Panish, attorney and friend of the Jacksons, read a statement on the family's behalf.
In it, Panish said: "We are not here to seek revenge. There is nothing you can do here today to bring Michael back. But we will keep the love in our hearts that Michael embodied throughout his life. His passion was for unifying the world through the gift of his artistry.
Article continues below advertisement
DOCUMENT: Read Dr. Conrad Murray's Probation Report
"We respectfully request that you impose a sentence that reminds physicians that they cannot sell their services to the highest bidder and cast aside their Hippocratic oath to do no harm. As we all know from this tragedy, doing so can have devastating results.
"The Bible reminds us that men cannot do justice, they can only seek justice. That is all that we ask as a family. And that is all that we can ask for here."
Deputy District Attorney David Walgren then addressed the court, asking the judge to impose the maximum four year sentence and deny probation. Said Walgren: "The planning and sophistication of the crime... There's clear evidence of the planning and sophistication that went into this. The defendant clearly and intentionally did not keep medical records. When it came to the treatment of the patient with propofol...he made a decision not to document that behavior in any written manner. That doctor/patient relationship was fundamentally destroyed by Dr. Murray. It is the People's position that prison is warranted. The defendant was playing Russian Roulette with Michael Jackson's life every single night."
Article continues below advertisement
Dr. Murray's lawyer, Ed Chernoff, asserted that "Michael Jackson was a drug seeker and he sought it out from Dr. Murray... He was a powerful, famous, wealthy individual with lawyers, security and staff and advisors. Maybe he was vulnerable. Maybe you agree with the prosecution? But what about before those two months? What about Dr. Murray's life before those two months?"
Judge Pastor questioned Dr. Murray's motivation for tape recording Michael Jackson while under the influence of drugs. "That tape recording was Dr. Murray's insurance policy. It was designed to record his patient surreptitiously at his most vulnerable point. I can't even imagine that happening to any of us... If the choice were to release that tape recording to a media organization... That failure of character was compounded by later actions of Dr. Murray...," the judge said.
"I believe he's a danger to the community. "It should be made very clear that experimental medicine is not going to be tolerated. And Michael Jackson was an experiment," Pastor said when pronouncing the sentence.
Murray was immediately remanded into the custody of the Los Angeles County Sheriff's Department because of state prison overcrowding.
As he was led away in handcuffs, Murray blew a kiss, presumably to his family.
Article continues below advertisement
Murray's four year sentence will automatically be cut in half because this crime is considered a non-violent felony. Dr. Murray could serve the sentence under house arrest, that decision will be made by the Los Angeles County Sheriff.
A restitution hearing has been set for January 23, 2012, because the District Attorney is asking that Murray pay $100 million dollars to Michael Jackson's three children. (The prosecution said Jackson stood to earn $100 million from his This Is it tour.)