Bernie Madoff's Daughter-In-Law Talks To Anderson About Their Dysfunctional Family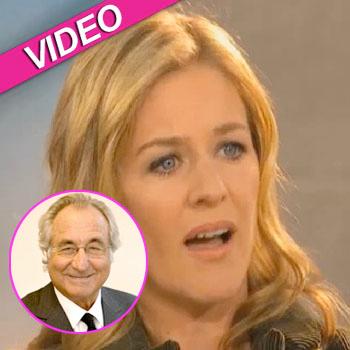 Article continues below advertisement
She was asked by Cooper on his syndicated talk show, Anderson, how she felt about the 60 Minutes interview with the disgraced financier's wife, Ruth, and son, Andrew, in which they talked about the night Bernie confessed to them that he was living a lie.
"I have no idea what went on in that penthouse that night, but for Ruth to talk about trying to kill herself so flippantly like that is so offensive to me because that's how my husband died," Stephanie told the CNN anchor.
"Ruth says she was happy that she woke up. I'm happy for Ruth that she woke up, but I just wish that my husband had and he didn't."
Kevin Bacon Admits Bernie Madoff Rip-Off Had 'It's Emotional Downsides'
Anderson pointed out that at one point when Ruth was asked what was the worst thing that had ever happened to her, she answered finding out her husband had had an affair - not the death of her son.
"I can't even imagine the pain Ruth must feel about losing a son but to say that the affair was worse," said an astounded Stephanie, "It doesn't make sense to me. She doesn't make sense to me."
Article continues below advertisement
With his father serving 150 years in prison, Mark was driven to suicide by the shame and guilty of the scheme and hung himself on the second anniversary of his dad's arrest on December 11, 2010.
Stephanie said she doesn't know if Ruth really tried to kill herself too, as she claimed, but thinks the way she discusses it so flippantly is bizarre.
"She sort of casually talks about it and then chuckles. I don't think that's a way you talk about suicide or an attempt at suicide. Its not a laughing matter. It's not funny. It's what killed my husband."