Exclusive
RADAR EXCLUSIVE: Bernie Madoff's Suicide Son Left $2M Fortune For Wife In Foundation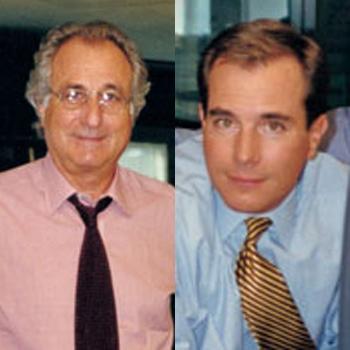 Mark Madoff left almost $2 million parked in a charity listed in his wife's name, RadarOnline.com has exclusively learned. What's more the charity gave out no money to any cause in 2009 but still received the tax breaks of a nonprofit organization.
Mark, the son of incarcerated Ponzi scheme architect Bernie Madoff, committed suicide on Saturday, on the two-year anniversary of his father's arrest.
DOCUMENTS: Mark and Stephanie Madoff Foundation IRS Filing
Article continues below advertisement
Mark worked for his father's firm that bilked $65 billion from investors. The son ran a nonprofit foundation until his death. He was distraught over his father's actions and always insisted her knew nothing about the scheme his dad ran, a scam that ruined individual investors and charities.
In a federal tax filing to the IRS on June 10, 2010 -- and obtained by RadarOnline.com -- Bernie Madoff's oldest son declared the Mark and Stephanie Madoff Foundation was worth a whopping $1,881,199.
A closer look at that foundation reveals:
* It gave no grants, contributions or gifts in 2009, according to the 990 form signed by Mark.
* It employed no people.
* It paid just $710 in taxes for the financial period of 2009.
* Mark, who listed himself as President, named 158 Mercer Street where he was found dead, as the foundation's business address.
* It had only three board members - Mark, Stephanie, and Andrew Madoff - each of whom worked a minimum of 12 hours per week.
Article continues below advertisement
* Wife Stephanie is listed as secretary while brother Andrew is treasurer.
The foundation's balance sheet includes $1,077,284 in corporate stock, $326,198 in US and state government obligations, $205,374 in corporate bonds and $265,375 in savings and cash. The foundation listed one other asset, which was not specified but is worth $6,960.
While there is no delineation of who or what The Mark and Stephanie Madoff Foundation served, the revealing tax filing obtained by RadarOnline.com details how the foundation traded in stocks after Bernie Madoff's arrest, when the family fortune took a massive hit.
MORE ON:
Celebrity Justice
The foundation made most of its money in one heavy day of trading on August 21, last year, totaling almost $50,000. It sold shares in a number of companies, including Agco Corp, BCE Inc, Calpine Corporation, Caterpillar Inc, Fluor Corp and Tiffany & Co.
As RadarOnline.com reported, Mark was found dead in his New York apartment about 7:30 am Saturday.
The 46-year-old hanged himself in the living room of his apartment in Manhattan's upscale SoHo neighborhood.
Article continues below advertisement
His 2-year-old son and dog were found in the apartment, unharmed.
While Mark ran the trading desk at Bernard L. Madoff Investment Securities, he staunchly denied any wrongdoing and no charges were ever brought against him, although prosecutors said they continued to investigate.
Mark's foundation has long been the center of controversy, after The Daily Beast revealed how Bernie quietly slipped his son $2 million to set-up the The Mark and Stephanie Madoff Foundation "as the walls started closing in" on his Ponzi scheme.
Bernie, whose personal tax returns have been made public, declared a gift of that amount to the foundation in 2007 and took a tax deduction for it, saving him approximately $1 million in taxes.
RELATED STORIES:
Bernie Madoff's Son Commits Suicide