Bernie Madoff's Son Kills Himself On Anniversary Of His Father's Arrest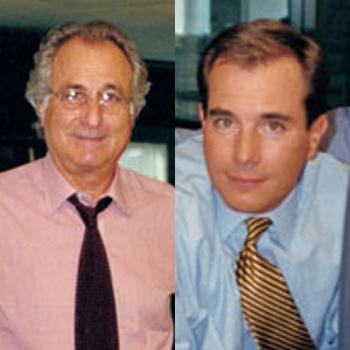 The tragedy that is Bernie Madoff never seems to stop. The jailed financier's son Mark was found dead Saturday morning, the victim of an apparent suicide, RadarOnline.com has learned.
It was two years ago today that Bernie Madoff was arrested for running a multi-billion dollar Ponzi scheme that cost thousands of investors their life savings.
Earlier this year Mark and his brother Andrew Madoff, who both worked for their father, were sued by the court-appointed trustee recovering assets for the victims.
Article continues below advertisement
Mark, who was described as "bitter" about his father's deception, had always maintained he had no knowledge of the scheme. Several months ago, he filed papers in a New York court to legally change his name.
Among the Madoff victims were several celebrities, including Kevin Bacon and Kyra Sedgwick who lost a reported $50 million, Larry King and John Malkovich.
Mark Madoff, 46, was found hanging in his Manhattan apartment. His wife and one of their children were in Florida at the time. Another child, age two, was found in the apartment with her father.