Exclusive
Lindsay Lohan 'Outraged' Sheriff Baca Said There Was Room In Jail For Her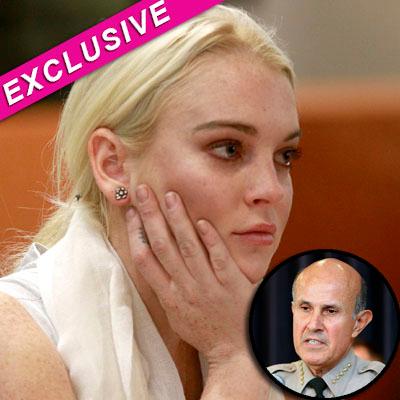 Lindsay Lohan is telling her close friends that she is very angry that Los Angeles County Sheriff Lee Baca made public comments about her in which the top cop said there was room at his jails for the Mean Girls star, RadarOnline.com is exclusively reporting.
Lohan is due back in court for a probation violation hearing on November 2 in connection with her shoplifting case. The troubled starlet, 25, was booted from the Downtown Women's Center, where Judge Sautner had ordered her to perform community service for failure to appear on multiple days. Judge Stephanie Sautner admitted at Lindsay's progress report hearing last week that sending her back to jail wasn't effective because of jail overcrowding. However, in a bold move, Sheriff Lee Baca said in a television interview that he had room in jail for her, appearing to send Judge Sautner a message that if she sentences Lindsay to jail, she would serve time behind bars.
Article continues below advertisement
"Lindsay was stunned when she made when she heard Sheriff Lee Baca discussing her on television. She just wants to be treated like everyone else. Lindsay was outraged when Baca said he had room in the jail for her, and that she would benefit from substance abuse counseling if placed behind bars. Baca doesn't know her, and he certainly isn't a lawyer. Lindsay was just at a loss for words that the sheriff would single her out," an insider close to the situation tells us.
"We found Sheriff Baca's statements to be highly inappropriate and not consistent with how the legal system is supposed to operate," Lindsay Lohan's rep Steve Honig tells RadarOnline.com exclusively.
As RadarOnline.com previously reported Sheriff Baca will closely follow Judge Sautner's jail sentence if she determines Lohan is in violation of her probation. "If Judge Sautner determines that Ms. Lohan is in violation of terms of her probation, and sentences her to jail, she would be remanded into custody at the Lynwood Correctional Facility for women," Nicole Nishida, spokesperson for the Los Angeles County Sheriff's Department tells RadarOnline.com.
Article continues below advertisement
Lindsay Lohan Talks It Out With Therapist After Being Turned Away From The Morgue
"Ms. Lohan did serve a sentence under house arrest recently because of jail overcrowding. If Judge Saunter were to state that she wants Ms. Lohan to serve time behind bars, and not at home, it's something that would be taken into consideration by officials. There is rampant overcrowding in Los Angeles County jails, and inmates are currently serving about 25% of their imposed sentences."
Lohan came under fire for her behavior while under house arrest. As RadarOnline.com previously reported Lohan was spotted partying during her 35 day "incarceration" as well as carrying out a roof top photo shoot and enjoying BBQs with family and friends.
Lindsay could be sentenced to 18 months behind bars if Judge Sautner determines she has violated terms of her probation.