Exclusive
Lindsay Lohan Talks It Out With Therapist After Being Turned Away From The Morgue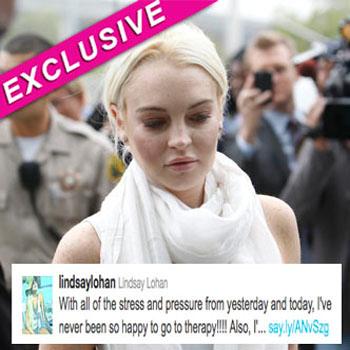 Article continues below advertisement
While some reports stated that Lindsay was getting her teeth whitened by a dentist, RadarOnline.com confirmed she was actually meeting with her psychologist, who happens to reside in the same building.
Lindsay's teeth have been a hot topic ever since she showed up to an event last week and was photographed with stained brown and rotting teeth.
As RadarOnline.com was the first to reveal, Lindsay was so "mortified" by the photos and backlash, that she scheduled an emergency dental appointment last Friday to get her pearly white smile back.
"Lindsay just didn't realize how bad the problem had become," an insider told us. "When the photos came out and everyone was shocked and laughing at her she was totally mortified."
After Lindsay had her probation revoked on Wednesday, she was released on bail and ordered to immediately start her community service at the L.A. County Coroner's Office on Thursday.
Lindsay was turned away by the morgue though when she showed up 40 minutes late, and the Mean Girls actress claims it was because she couldn't find the entrance.