Exclusive
Lindsay Lohan Skipped Shoplifting Course For Emergency Dental Work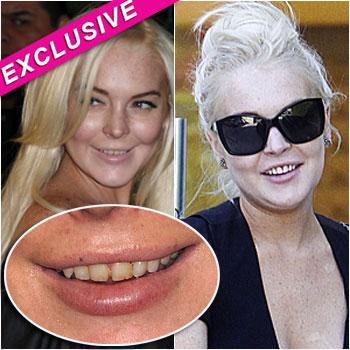 Article continues below advertisement
As RadarOnline.com was first to report, Dr. Pankaj Singh said it appeared Lindsay had "an emergency dental intervention" to fix her gnarly grill -- and he was right.
"Either she had some bondings or veneers done to cover up the stained and decayed teeth," Dr. Singh told RadarOnline.com.
Proof that the 25-year-old had dental work done is in her probation report, obtained by RadarOnline.com.
In the piece referencing Lindsay's completion report at the shoplifting alternative program, a record of her excused absences was listed and among the numerous dates she was out of town for work gigs, is an October 14 absence for a dental appointment.
"Ms. Lohan has not been absent to any regularly scheduled activities, except the session scheduled for her on Friday, October 14, 2011 due to her need to seek dental work," the report states.
"Client presented evidence of attending her dentist office. As a result her absence was excused."
A source close to the situation told RadarOnline.com that Lohan was "mortified" by the photos of her stained and rotting teeth and was spurred to immediately seek help to repair the problem.
Article continues below advertisement
"Lindsay just didn't realize how bad the problem had become," the source said. "When the photos came out and everyone was shocked and laughing at her she was totally mortified.
"She arranged the first appointment she could get and sorted out the issue. She takes pride in her appearance and knows she needs to look good at all times, it's how she makes her living."
RELATED STORIES:
Lindsay Lohan's Morgue Duties: Maintenance & Janitorial Work, No Contact With Dead Bodies