Lindsay Lohan Looks Shocking On Red Carpet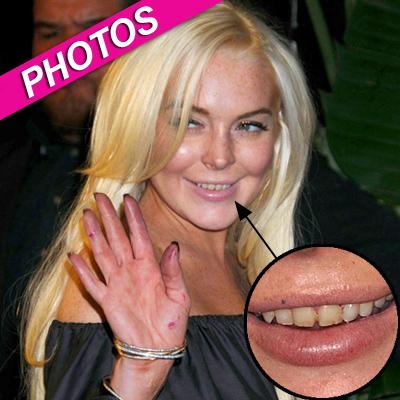 Senior RadarOnline.com Reporter
Lindsay Lohan walked a red carpet in Los Angeles Wednesday night looking like a far cry from her former star days, and RadarOnline.com has the shocking photos of the starlet's frightening look.
In a close up Lindsay's teeth seem to be stained brown and almost rotting, a far cry from the million dollar smile she used to have and her face is unusually puffy.
The 25-year-old's hands are dirty and blackened, covered with streaks of nail polish and her usually lustrous blonde locks are messily disheveled.
Article continues below advertisement
Lindsay has been spotted in recent weeks in compromising positions that raise questions about her illegal substance abuse but when she attended the THQ lauch of their new video game 'Saints Row: The Third' held at the Supper Club in Los Angeles her appearance was frightening to those around her.
As RadarOnline.com has previously reported, Lindsay is due back in court for a status update with Los Angeles Judge Stephanie Sautner in just a few days and those close to her are worried that she is not on the right path.