Exclusive
Lindsay Lohan's Inner Circle Concerned About Her Partying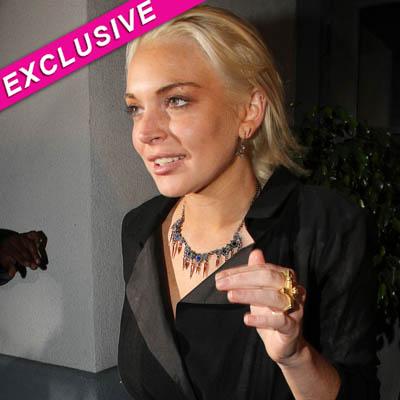 By Jen Heger - RadarOnline.com Legal Editor
Lindsay Lohan's constant partying all weekend in Malibu with Paris Hilton & Nicky Hilton is only adding growing concern from the starlet's inner circle, RadarOnline.com is exclusively reporting.
Lindsay was admonished just over a week and a half ago by Judge Stephanie Sautner to focus on completing her community service at the Downtown Women's Center.
Lindsay has completed around 40 hours of her ordered 480 hours of community service, and she must complete the community service by July 2012, but with Lindsay's track record with complying with the terms of probation, her advisors are growing increasingly concerned.
Article continues below advertisement
"Lindsay has been told what she needs to do. Lindsay knows that she must do the community service, but she doesn't seem to be taking Judge Sautner's warning seriously," a source close to the actress tells RadarOnline.com. "The day after Lindsay was in court for her last progress report, she was spotted at a beach party in Dana Point. Lindsay tells her team that she will finish the community service in time, but given her track record... well, one thing is certain Judge Sautner won't tolerate any excuses, period."
Lohan was spotted leaving Paris Hilton's Malibu summer beach rental at 4 am on Sunday morning. Lindsay was also at Paris' house on Friday night. The former frenemies are now getting along much better to the amazement of Team Lindsay.
"Lindsay is an adult, she can make her own decisions. Lindsay didn't drive after leaving Paris' house, which is a good sign. But, she as someone that is supposed to be in recovery to an addiction to drugs and alcohol, Lindsay shouldn't be partying until the wee hours of the morning," the insider says.
Article continues below advertisement
Filming for Lindsay's next gig, the biopic of John Gotti's life doesn't begin until next year, and her advisors are trying to line up work for the actress before then. "Team Lindsay wants to get her working so that she will stay out of trouble. Period. Filming for Gotti can't come soon enough," the insider says.
RELATED STORIES:
Lindsay Lohan Denies She Owns A Gun -- 'No Idea Why Someone Would Say That'