Exclusive
Lindsay Lohan Had Emergency Dental Intervention, Says Expert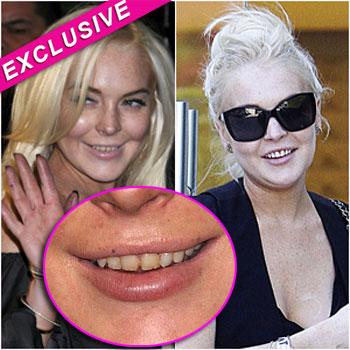 Senior RadarOnline.com Reporter
Just days after appearing on the red carpet with stained and rotting teeth it looks like Lindsay Lohan has had emergency dental work, an expert tells RadarOnline.com.
Lindsay was out shopping in Los Angeles at the weekend, showing off her pearly whites, a far cry from the dirty brown teeth she flashed last Wednesday night.
Dr. Pankaj Singh, of Arch Dental Associates in New York City, who has not treated the starlet, said he thinks Lindsay hurried to a dentist to fix her gnarly grill.
Article continues below advertisement
"It would appear she had an emergency dental intervention; either she had some bondings or veneers done to cover up the stained and decayed teeth."
The heavy smoking 25-year-old's frightening smile last week was a far cry from the million dollar smile she used to have.
Dr. Singh previously told RadarOnline.com that the damage on her teeth "appears to be from a combination of smoking, drug use and a lack of personal care."