Exclusive
Lindsay Lohan Donates $50K To Help Make Children's Lives Easier: 'Like My Mom Has Done For Me'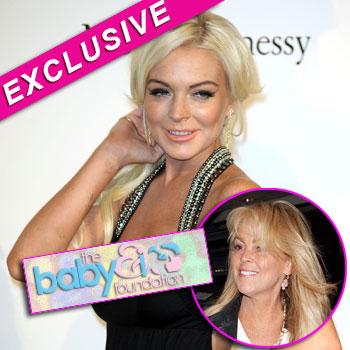 Lindsay Lohan has been under fire recently for her questionable behavior but she has managed to find some time, and money, to give back to those in need, RadarOnline.com can exclusively report.
The beleaguered starlet recently donated $50,000 to a children's charity, called The Baby and I Foundation and she did so in honor of her mother, Dina.
"Lindsay was really keen to make a donation to the charity," a source close to the situation tells RadarOnline.com. "Her main motivating factor was that she hoped to make children's lives easier by way of their own mothers, as her own mom has done for her."
Article continues below advertisement
The Baby and I Foundation provides assistance to economically at-risk expectant mothers ages 14-24 in the Metro-Atlanta area. They work to reassure expectant mothers that they will have access to the essentials needed for the successful delivery and development of their newborns for the first year of life. In addition, they "provide prenatal and postnatal services that facilitate parental success, thus enhancing the well-being of both mother and child."
The source says that Lindsay learned of the charity after Dina was approached by them to be their spokesperson — she declined, but a week later Lindsay made the hefty donation.
The source points out that there could be another motivating factor behind the generous move though, besides just goodwill.
"It's kind of convenient timing," the source says. "Just as she gets all this negative publicity and is getting ready to head back to court, she's shown to have a good heart and a caring nature. I'm sure it can only help her case when she has to plead before the judge."