Exclusive
Lindsay Lohan: I'm Serious About Completing My Probation Requirements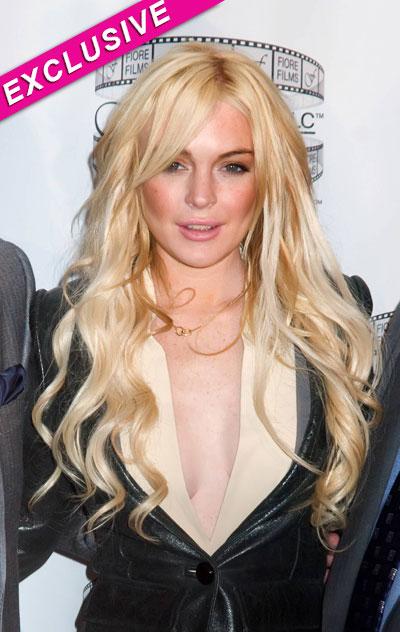 Radar Legal Editor
Lindsay Lohan will attempt to prove that she is fulfilling all her probation requirements when she goes before Los Angeles Judge Stephanie Sautner on Wednesday, RadarOnline.com is exclusively reporting.
Lohan,25, was booted from the Downtown Women's Center last week after she repeatedly failed to show up to perform community service in connection with her no contest plea in her theft case.
Article continues below advertisement
"Lindsay performed community service every single day this past week at the Red Cross, and has been spending the bulk of the weekend fulfilling her therapy and shoplifter's course requirements. She is extremely focused on her court-ordered obligations," Lohan's rep Steve Honig tells RadarOnline.com exclusively.
With her court date looming, "Lindsay is really starting to rack up the hours now and is extremely serious about getting this done," an insider tells us.
Lindsay was sentenced to 360 hours of community service at the Downtown Women's Center, 100 hours at the Los Angeles County Morgue, weekly therapy sessions, and a shoplifting class. Judge Sautner specifically wanted LiLo to experience being around women that had fallen on very rough times, and that is why the Downtown Women's Center was selected.
Sautner could order Lindsay to stop performing that part of the sentence at the Red Cross, and order her to another organization that deals with homelessness.
Article continues below advertisement
While Lindsay was overseas, she did weekly therapy sessions with her shrink on the telephone. "Lindsay was ordered to undergo weekly therapy sessions by Judge Sautner. Technically, Lindsay isn't in violation of that order, because Judge Sautner didn't specify that these appointments be done in person. It's assumed that Lindsay would go see her therapist every week, but there isn't a specific order stating how that session is to be conducted. Lindsay always pushes the envelope, no doubt. Judge Sautner will most certainly modify terms of her probation at her progress report hearing," a source close to Lohan says.
Lindsay was given until May, 2012 to complete all terms ordered by Judge Sautner, and she has stated that she wouldn't accept any excuses for it not being done on time. "Even if Judge Sautner revokes Lindsay's probation on Wednesday, and remands her into custody, she will post bail immediately. Lindsay must be given bail because it's a misdemeanor, and there would be a probation violation hearing, and that is when it would be determined by the judge if she should go to jail. Again, this is only if Sautner determines there appears to be a probation violation," the source states.
Article continues below advertisement
Lindsay Lohan's Former Prosecutor: I Told You So!
Lindsay's attorney Shawn Holley and her bail bondsman will be with her on Wednesday, ready for whatever the decision is.
Will Judge Sautner believe that Lohan is taking her requirements seriously, or will she violate her probation? It's clear that Lohan's immediate future rests with the judge's ruling on Wednesday.
RadarOnline.com will be at the LAX Airport Courthouse on Wednesday for the proceedings.