Lindsay Lohan On Morgue Mishap: 'I'm Sorry For The Confusion'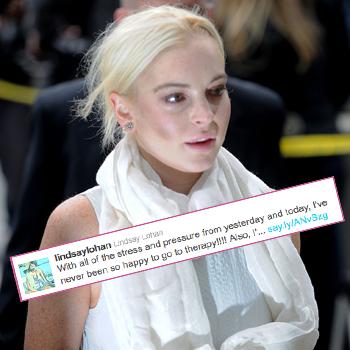 Lindsay Lohan is apologizing -- sort of -- for showing up late Thursday morning at the Los Angeles County Morgue where she was supposed to start serving her community service; because she was late, she was turned away and will return tomorrow for orientation.
After the morgue mishap, Lindsay tweeted: "With all of the stress and pressure from yesterday and today, I've never been so happy to go to therapy!!!! Also, I'm sorry for the confusion that I may of caused to those at the Coroner's office. Won't happen again, now I know where to go! Thank you for your help."
Article continues below advertisement
As RadarOnline.com previously reported, Lindsay's rep Steve Honig explained LiLo's version of what happened.
"Lindsay arrived at the morgue approximately 20 minutes late and will be returning for orientation tomorrow. Her lateness was due to a combination of not knowing what entrance to go through and confusion caused by the media waiting for her arrival. Lindsay spoke with the supervisors at the morgue, they showed her how to get in and everything is all cleared up," Honig told us.