Exclusive
Lindsay Lohan Through The Years: From Child Star To Con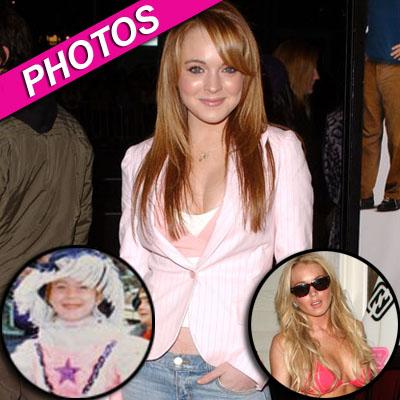 Senior Radar Reporter
Lindsay Lohan is one of the most recognizable celebrities in the world, and in this photo gallery RadarOnline.com takes a look back at the 25-year-old troubled starlet through the years.
The pictures document Lohan's shocking transformation from a fresh faced little girl to a haggard young woman with multiple arrests, jail stints and a look much older than her years.
Article continues below advertisement
Born on July 2, 1986 to Michael and Dina Lohan, little Lindsay began her career as a Ford model at the age of three. She appeared in over 100 television commercials, two soap operas and then landed the role that truly launched her acting career -- the 1998 Disney remake of The Parent Trap, which shot her to stardom.
With red hair and freckles, Lindsay became the darling of Hollywood, quickly booking a slew of hit movies, including, Freaky Friday, Mean Girls and Confessions of a Teenage Drama Queen, all while smiling brightly for cameras as she charmed her way into a tough industry.
She appeared on red carpets with her auburn hair shining and smiling brightly while looking like a healthy young woman with a full career ahead of her.
But in 2004 her troubles began. While on the set of Herbie: Fully Loaded Lindsay was hospitalized for a kidney infection that she blamed on stress, and this is when her downward spiral started.
Bleaching her hair blonde and losing weight, Lindsay began to appear on the party circuit and within a few years had a string of failed movies.
Article continues below advertisement
She checked into rehab for the first time in 2007, got two DUIs and checked into rehab again; her relationships were falling apart and her shocking weight loss showed in pictures, sometimes accompanied by the court ordered SCRAM bracelet she wore on her ankle.
Lohan dyed her blonde locks a shocking black, again appearing in court in May 2010 and being forced to wear a SCRAM bracelet.
She went back to blonde just days after that court appearance and has been sporting the light colored hair ever since.
With extensions that have ranged from styled to disheveled, Lindsay's appearance was shocking in October 2011 when she appeared on a red carpet with brown and stained teeth, messy hair and a skinny frame.
She quickly booked in for emergency dental surgery after her rotting teeth debacle, but was publicly embarrassed once again after she was handcuffed and booked for yet another parole violation on Wednesday.
Article continues below advertisement
So, what's the next chapter in the Lindsay Lohan saga?
The troubled starlet has been ordered to complete her community service obligations at the city morgue, but as her father, Michael Lohan, ominously predicted in an exclusive interview with RadarOnline.com: "If she doesn't get help, instead of doing community service in the morgue she's going to wind up in the morgue!"
RELATED STORIES: