Exclusive
Lindsay Lohan Buys Lunch From In-N-Out For Entire Morgue Staff!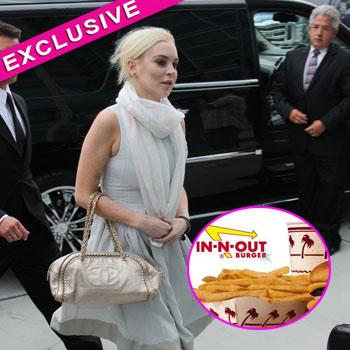 By Jen Heger - Radar Legal Editor
Lindsay Lohan is completing her first full day of court ordered community service at the Los Angeles County morgue, and bought lunch for the entire staff from In-N-Out, RadarOnline.com is exclusively reporting.
Lohan showed up 40 minutes late for her first day of orientation Thursday, and wasn't allowed in the building because of her tardiness.
Lilo arrived Friday morning at 5:30 a.m., and was let in the building shortly before 7 a.m.
Article continues below advertisement
"Lindsay is attempting to make amends for her actions yesterday, and wanted to buy lunch from In-N-Out for the staff. It was important to her to do this, and she wants to just perform her court ordered community service at the morgue. She is taking this very seriously," a source close to the situation tells RadarOnline.com.
"Lindsay is interacting with staffers, and performing all duties as assigned. It's manual labor, but Lindsay isn't complaining. She is being a real trooper and has apologized for the media that is camped outside the building because of her," the insider says.
Lindsay's publicist, Steve Honig, confirms that his client splashed out for lunch, telling RadarOnline.com: "Lindsay asked her assistant to pick up lunches from the In-N-Out in Huntington Park around 10:30 a.m.
"Around 11:00 a.m., her assistant returned with the lunches and brought them into the administrative trailer and set the food on a table for the volunteers to eat on their break. RadarOnline's report that Lindsay had lunches brought in for the other volunteers is completely accurate despite any claims to the contrary.
Article continues below advertisement
"Additionally, Lindsay ordered cupcakes for the staff and volunteers. When they were delivered, morgue supervisors would not them them into the building. It is unfortunate that Lindsay's well-intentioned actions were not taken in the spirit in which she intended; to say she was sorry for yesterday's misunderstanding."
The embattled actress must perform 16 hours of work per week at the coroner's office leading up to her probation violation hearing on November 2.