New Witness In Mansion Deaths Says They Heard Woman 'Scream For Help' -- Hours Before Cops Claim Rebecca Zahau Committed Suicide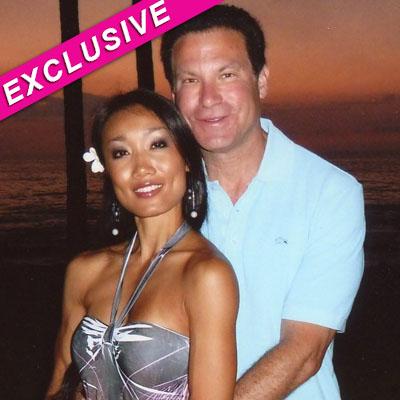 Senior Executive Editor, Star
A new witness has emerged in the bizarre hanging death of Rebecca Zahau and claimed they heard a woman "scream for help" from inside the Coronado, Calif., mansion -- an hour-and-a-half before police said the woman received a voice message from her pharmaceutical tycoon boyfriend, triggering her suicide.
The San Diego County Sheriff concluded that the voicemail, apparently informing her that his son, Max, was going to die, was the catalyst for Zahau, 32, to hang herself -- naked, bound and gagged. She plunged from a balcony at the multi-million dollar Spreckles mansion, owned by her lover Jonah Shacknai, 54, on July 13.
Article continues below advertisement
But in a stunning twist, the witness, whose identity has not been released, contacted Zahau's anguished family on Wednesday and provided them with information that could put the suicide theory in question. One source directly involved in the case told RadarOnline.com the witness is "credible" and their information had been "verified."
"The witness contradicts the facts released by the sheriff's department," a source close to the the family's legal team told RadarOnline.com. "This individual, whose name is not being disclosed, was unequivocal about what they heard: a woman scream for help -- from inside the mansion -- at 11 pm PT"
It's a dramatic development that challenges the theory floated by law enforcement. They've suggested a guilt-ridden Zahau killed herself at about 3am PT, after being informed of a grim prognosis for Max, 6, who suffered grave injuries from a fall while under the woman's care.
According to a source close to Zahau's family, the new information "appears to back up" information they obtained from Zahau's phone records which questioned whether the voice mail that allegedly triggered the suicide was indeed left. The AT&T call logs revealed Zahau had a series of phone conversations and exchanged several text messages in the hours leading up to her death, as RadarOnline.com previously reported.
Article continues below advertisement
Nineteen minutes before the witness heard the "scream for help," Zahau received a text message from Nina Romano, 41, the twin sister of Shacknai's ex-wife Dina. In an interview with News 8 San Deigo last Saturday, Romano said she sent the text message because she wanted to visit Zahau "to talk to her about the accident."
The billing logs also revealed there was no incoming call from Shacknai that evening, despite what detectives reportedly told Zahau's sister, Mary Zahau-Loehner: it was Shacknai who left the voicemail on her phone around 12:30 am PT on the morning of his girlfriend's death. AT&T has since said it was plausible that Shacknai's call had gone straight to voicemail, although there is no proof that occurred, as the message was mysteriously erased.
The emergence of the Zahau family informant and the new lead also questions whether it was Zahau who listened to that voicemail, twenty minutes later, at 12:50 am PT -- or someone else.
Jonah Shacknai Requests Re-Examination Into Rebecca Zahau And Max's Deaths
"The new information indicates that Rebecca may well have died before the voicemail was left," a source told RadarOnline.com, adding: "We now don't know who retrieved it."
Article continues below advertisement
On Thursday, it was revealed California Attorney General Kamala D. Harris had declined a request from Shacknai, the founder and CEO of Medicis Pharmaceutical Corp, to re-examine Zahau's supposed suicide and Max's fatal fall.
In a letter to Shacknai dated September 21, the attorney general's office said the California Department of Justice would conduct such an investigation only "under very narrow circumstances."
Forensic Expert Reveals Another Set Of Unknown Footprints On Balcony In Zahau Case
"Some of the factors that are considered before committing the state's scarce resources include whether a clear conflict of interest exists, whether a local law enforcement agency has requested assistance, whether local investigative resources have been exhausted, and whether there are allegations of gross malfeasance by the investigative agency," wrote the chief assistant attorney general, Dane R. Gillette.