Exclusive
Forensic Expert Reveals Another Set Of Unknown Footprints On Balcony In Zahau Case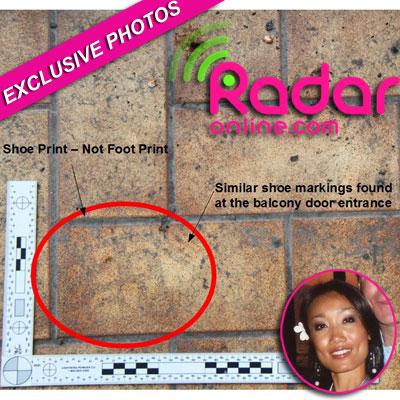 By Jen Heger - RadarOnline.com Legal Editor
There appears to be yet another mystery in the Rebecca Zahau death case, involving an unknown set of footprints on the balcony that cops claimed Rebecca jumped to her death from, RadarOnline.com is exclusively reporting. Rebecca's family refuses to accept that she killed herself, and have asked authorities to re-open the case.
Rebecca's naked body was found hanging from the balcony at her billionaire boyfriend Jonah Shacknai's mansion in Coronado, CA. (a suburb of San Diego), two days after his son, Max, 6, was found unconscious at the base of the stairs. Max later died from his injuries.
Article continues below advertisement
Dr. Maurice Godwin, a forensic expert hired by the Zahau family, reveals exclusively to RadarOnline.com that there is a mysterious set of footprints on the balcony that are unaccounted for.
The San Diego Sheriff's Department has previously said that there were an extra set of footprints on the balcony, but they were from one of their own officers.
But, according to Godwin's examination, there was ANOTHER set under the supposed officer's footprints: "It appears to me that the officer stepped on top of another print based on this photograph. This indicates that a second person was on the balcony with Rebecca," Dr. Godwin says.
The renowned expert has harsh criticism for the San Diego Sheriff's Department's handling of Rebecca's investigation. "One of the major crime scene mistakes was to step on the balcony before completely photographing and video taping it. Also, the police did not scale Rebecca's prints with a tape measure. No doubt the police should have been wearing booties," Dr. Godwin asserts.
RELATED STORIES:
Rebecca Zahau's Sister: I'm 'Very Disappointed' With Investigation Into Her Suicide