Jonah Shacknai and Ex-Wife Dina Had History Of Domestic Fights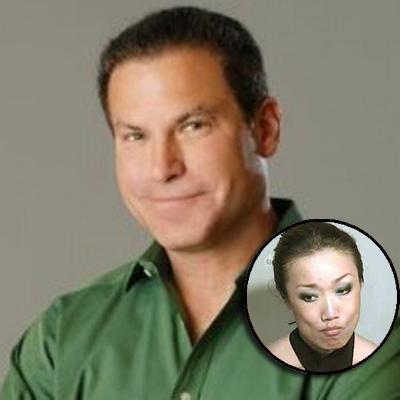 By Cliff Renfrew - RadarOnline.com Reporter
Jonah Shacknai and his ex-wife Dina Shacknai were involved in domestic altercations both before and during their divorce police reports have revealed.
San Diego detectives are still investigating the mysterious death of Rebecca Nalepa who was found hanging naked at her millionaire boyfriend's San Diego area mansion only days after his six-year-old son Max Shacknai suffered a fatal fall.
Article continues below advertisement
According to police reports released by Paradise Valley Police Department both Jonah and Dina leveled claims against one another when they were divorcing in 2008 and 2009 while they shared a home in Pheonix, Arizona.
In 2009 Dina claimed that he had elbowed her in the right breast and swore at her as he tried to drive away from the house they were living in.
He claimed that he did not hit his then wife and that she tried to yank the keys from his car's ignition while shouting: "You cannot leave me!".
Although neither person was arrested the reports show that the pair was involved in a contentious divorce.
In a 2008 incident Jonah told police that Dina attempted to choke him and that their German Shepherd dog got so agitated by the conflict that it bit her.
According to the police report, Dina told an officer that her husband had never physically hit her, but that the dog had a history of biting her in the midst of their arguments.
Article continues below advertisement
Medicis Pharmaceutical CEO Shacknai also went to police in 2007 about another dispute with his wife.
The release of the reports come as San Diego authorities said they had launched a formal investigation into the death of the couple's 6-year-old son Max after he fell down stairs inside the historic Spreckles Mansion on July 11, 2011.
Mysteriously keep fit fanatic Nalepa - who lived with Shacknai in the historic Coronado property - was found dead hanging naked two days later from a balcony of the house with her hands and feet tied.
Jonah Shacknai, 54, was not believed to be home at the time his son fell or when his girlfriend hung herself - his brother Adam Shacknai discovered her body inside the mansion.
Investigators still aren't ready to say if Nalepa's hanging was a criminal act or suicide.
Sheriff's Sargeant Roy Frank said: "Sometimes suicide can look very similar to homicide or vice versa."
Frank added that he did not believe that her death stemmed from a sexual act taken too far.
Article continues below advertisement
The county Medical Examiner's Office has conducted an autopsy on Nalepa, but authorities have ordered it sealed.
An autopsy will also be performed on Max Shacknai, Lea Corbin, a Coronado police spokeswoman revealed - his death was considered 'accidental' the official confirmed.
It was also revealed that a 13-year-old girl, a relative of Nalepa's, was in the home when Max suffered his fatal fall.
Both Jonah and Adam Shacknai have been interviewed by detectives probing the bizarre case that has gripped the wealth enclave of Coronado.
Jonah and Dina Shacknai today issued the following statement in response to media inquiries related to the release of police reports by the Paradise Valley Police Department:
"While our marriage did not work out as either of us had hoped, it did produce a wonderful son, Max, whom both of us loved very much. His loss is unimaginable. These police reports are not reflective of the totality or the precise details of the events during a difficult time in our marriage that we worked through together. The release of the records as we grieve Max's recent loss pains us greatly, and we request that the privacy of our family be respected. The unfortunate attention to these records is a distraction from the most important concern of honoring our beautiful son, who lives on in both of our hearts."