Where's Casey? Mystery Grows As Lawyer Says 'Respect The Jury Verdict'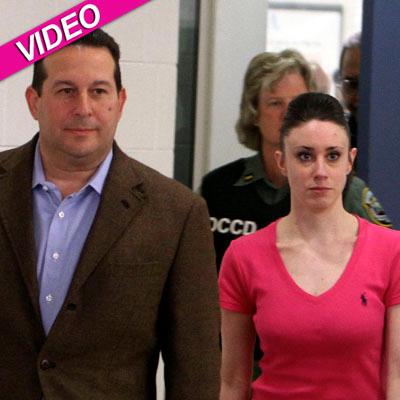 As the whereabouts of Casey Anthony remain a mystery Monday -- although there is speculation she could be in Arizona -- her attorney Jose Baez is telling her critics to start "respecting the jury verdict and decisions that the juries make" in hopes of quieting the masses calling for her head.
Baez, appearing on Fox News late Sunday, made the statement in the wake of death threats, chilling Photoshop pictures depicting her death, newly-sprouted "I Hate Casey Anthony" and "Where is Casey Anthony?" Facebook pages, and a general sense of negativity aimed toward his client, who was just released from jail.
Article continues below advertisement
"Pundits and media personalities have no right to try and alter the life of any individual because of what they think may or may not have happened," Baez said.
On July 5, Casey was acquitted of first-degree murder, aggravated manslaughter and aggravated child abuse in the 2008 death of her 2-year-old daughter Caylee.
After she received credit for time served on her convictions of four counts of lying to police, she was officially released from custody shortly after midnight on Sunday.
Baez told Fox News Casey has "certain rights as an individual in this country" as far as money-making interviews, tell-alls and the like, that many have predicted Anthony to cash in on.
"If she decides she wants to speak publicly about it, she'll make that decision," he said.
Anthony's whereabouts for her first week of freedom remain a closely guarded secret Monday, known only to a select few as she tries to start a new life.
Article continues below advertisement
Sources have told WFTV in Orlando that Anthony boarded a plane at the Orlando Executive Airport at about 3:00 a.m. Sunday. The single engine prop plane reportedly has a connection to a wealthy California attorney formerly on her case. It's believed the plane landed in Arizona.
Even Casey's own parents, George and Cindy, reportedly do not know where their daughter is.
Meanwhile, the couple's attorney says that Casey's lawyer wanted to use them as media decoys at the Orlando jailhouse while she was being released.
Mark Lippman, who represented Casey's parents, told HLN's Jane Velez-Mitchell on Sunday that he refused the request from attorney Jose Baez.
"Last night we got a call from Mr. Baez ... he had wanted to use my clients as decoys for the media and I, of course, did not agree with that and neither did my clients," said Lippman. "One, it was risky at best, and two, just in my opinion, something that would not be beneficial to anybody."
Article continues below advertisement
Lippmann also indicated that there has still been no further contact between Casey and her mother, although Cindy did want to have contact with Casey, and Baez blocked it, according to Lippman.
"After the trial Cindy tried to see Casey and again was rebuked. Now again, even a simple telephone call apparently seems to be too much for either Casey or Mr. Baez, so we're asking publicly that Mr. Baez at least reach out to me and let me know what's going on," Lippman said.
Watch ABC News' report on Anthony's release below: