Exclusive
Casey Anthony Look-A-Like Attacked In Oklahoma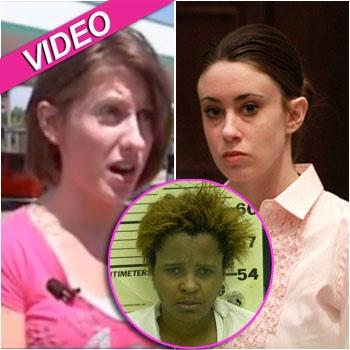 A young woman was subjected to a vicious attack after being mistaken for Casey Anthony, RadarOnline.com can report.
Sammay Blackwell - who in a bizarre twist has a daughter named Caylee - was working at a convenience store in Chouteau, Oklahoma when she was mistaken for the troubled 25-year-old.
According to an interview with the terrorized clerk on local station News on 6, Shireen Nalley tried to kill her because she looked like Anthony - who will be released on Sunday after being acquitted of killing her 2-year-old daughter.
Article continues below advertisement
Blackwell claims Nalley approached her and told her she looked like Anthony, before waiting for her to leave work and attacking her.
"I proceeded to pull out of the parking lot, and she was right behind me," she said.
A few miles down the road, Blackwell, says Nalley - whose mugshot can be seen on RadarOnline.com - rammed into her van, chased her and hit her again, causing the car to flip two and a half times.
"I just laid there playing dead," she said.
EXCLUSIVE: TV Producer Offers Casey $1M For First Interview – See The Check
When police arrested Nalley for assault and battery with a deadly weapon she said she was 'trying to save the children'.
"She said that I was trying to hurt babies, I was killing babies and she was going to stop it before it happened again," said Blackwell. "She could have taken me away from my family, my daughter."