Exclusive
Drugs Boss Releases Statement About Dead Son Following Bizarre Death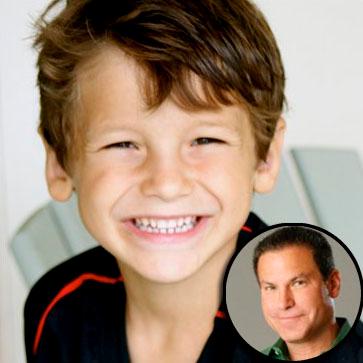 By Cliff Renfrew - RadarOnline.com Reporter
Multi-millionaire pharmaceutical boss Jonah Shacknai has released a statement following the tragic death of his young son Max.
The six-year-old died after sustaining injuries while falling at his father's historic San Diego mansion where he was being looked after by his father's girlfriend, 32-year-old Rebecca Nalepa.
Bizarrely, Nalepa's body was found hanging naked from a balcony of the same home only a few days after the boy's fall last Monday, police are still investigating her death.
Article continues below advertisement
Shacknai, 54, and the boy's mother, his ex-wife Dina Romano, released the following statement: "With great sadness, Dina and I convey the tragic passing of our beloved son, Max (affectionately known as Maxie). Despite heroic efforts on the part of paramedics and hospital staff, he was unable to recover from the injuries suffered early last week.
"His loving, kind and vibrant spirit will forever be in our hearts and those whom he touched every day. The loss to our families, Max's many friends of all ages and teammates, and the community is immeasurable. We appreciate your respecting the privacy of our families during this time of grieving for Max. A private memorial service is being planned.
"Memorial contributions honoring Max may be made to Whispering Hope Ranch Foundation either by mail to 9045 E. Pima Center Parkway, Scottsdale, AZ 85258, or via their web site, www.whisperinghoperanch.org.
"On behalf of Dina, myself and our families, please know of our appreciation for the tremendous outpouring of support provided during this very difficult time. Jonah"
Max Shacknai was treated at the scene of the accident by paramedics at the Spreckles Mansion in up-scale Coronado after he fell down some stairs but he was not breathing and did not have a pulse.
Article continues below advertisement
He was taken to a nearby hospital and placed on life-support before being pronounced 'brain dead' over the weekend.
At the present time Coronado police do not believe that there is a connection between Max and Nalepa's deaths.
Her body was discovered at the home by Jonah's brother Adam Shacknai on Wednesday after he discovered her naked hanging from one of the balconys with her ankles and wrists bound.
"This is a very bizarre death, there's no doubt about it," revealed San Diego Sheriff's Captain Tim Curran.
"There are some very unique ways people can take their own lives - if it was determined to be a suicide, people will do some very bizarre things."
Nalepa's sister Mary Zahau Loehner spoke with her sister on Tuesday night and told ABC News that her sister 'seemed fine'.
It's understood that Jonah Shacknai was not home during his son's fall or when his girlfriend was found dead - the couple had been dating for two years.
Article continues below advertisement
The San Diego Medical's Examiner's Office has not released any information about how Nalepa might have hung herself while her writs and ankles were bound or about what materials were used to bind them.
Jonah Shacknai founded pharmaceutical giants Medicis and has been chief executive and chairman since 1988.
The company makes dermatological and aesthetic pharmaceutical products and took $700 million in revenue last year.