Exclusive
Week In Photos: Big Babies, Bold Crimes And Billionaire Boyfriends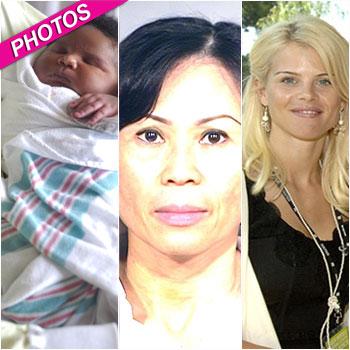 There's never a dull moment in the world of celebrities, scandal and controversy and what better way to see what happened this week than through photos on RadarOnline.com.
Tiger Wood's ex Elin Nordegren cashed in big time scoring herself a new uber rich boyfriend. The sexy Swede has been dating Jamie Dingham, the son of a billionaire, for seven months.
A Florida couple was found guilty after their pet python strangled their two-year-old daughter to death. Shaianna was killed in her crib by the 8ft snake in 2009 after it escaped from it's open enclosure. The jury rejected Jaren Hare and her boyfriend Charles Darnel's claims that it was an accident and they were charged with third-degree murder, manslaughter and child abuse.
Article continues below advertisement
Big baby news for Victoria Beckham and Kate Hudson who both gave birth on Sunday July 10. The British star welcomed a baby girl called Harper Seven while Hudson and her Muse rocker fiancé, Matt Bellamy, named their boy Bingham Hawn Bellamy.
Even bigger baby news was the Texas newborn tipping the scales at 16lbs. Janet Johnson and Michael Brown became the proud parents of the largest baby born ever on record in Texas.
Casey Anthony's legal drama continued but another devastating murder case stole the hearts and headlines in America. Levi Aron, 35, was arrested for the shocking killing and dismemberment of 8-year-old Hasidic boy, Leiby Kletzky in New York. He confessed to the murder in a courtroom and described how he cut up his body and dumped the parts in his freezer and a dumpster.
One woman made the cut, quite literally after she allegedly chopped off her husband's penis and threw it down the garbage disposal. Catherine Kieu Becker was arrested over claims she laced her soon-to-be ex husband's dinner with drugs and cut off his manhood while he was passed out. She has been charged with felony torture and aggravated mayhem and faces life in prison if convicted.
Article continues below advertisement
And the Emmy nominations go to…..Mildred Pierce and Mad Men led the pack as the nominees for the 63rd Primetime Emmy Awards were announced. Modern Family, Boardwalk Empire and 30 Rock also garnered nods. Larger than life, Mike & Molly's Melissa McCarthy is up for best actress in a comedy series and Jon Cryer is hoping to win best supporting actor in a comedy for his role in Two And A Half Men.
Lady Gaga rolled with the punches this week after being slammed by a disability organisation for performing on stage in a wheelchair. The wacky star was perfuming in Sydney Australia when she used the chair purely for artistic flair.
And three times a charm for Halle Berry whose alleged stalker was arrested after jumping over her wall and prowling her property on three separate occasions. Richard Franco, 27, was finally caught but pleaded not guilty on one felony count of stalking and remains in jail on $150,000 bail.
RELATED STORIES:
Elin Nordegren & Kids Celebrate Sam's Birthday At Disney