Exclusive
Casey Anthony Could Still Be Forced To Testify During Civil Suit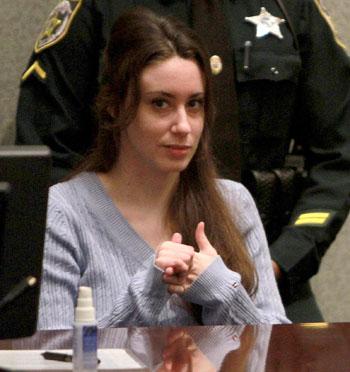 Article continues below advertisement
His client Gonzalez filed a lawsuit back in 2008 claiming she could not find work and had been ostracized after Anthony told investigators that a woman with the same name had kidnapped her daughter.
Investigators quickly established after questioning Gonzalez that she had nothing to do with the case and the babysitter "Zanny the Nanny" who Anthony referred to did not exist.
Gonzalez of Kissimmee, Florida, is seeking more than $15,000 in punitive damages for damages to her reputation, loss of job, public humiliation and distress brought by Anthony.
But worse still for Anthony, it's likely she will have to be questioned under oath if she chooses to defend the case while she could also be called to testify if it goes to trial.
Although there could be motions blocking lawyers asking questions related to the criminal trial they could quiz her on topics related to the litigation.
She could still be asked some searching questions related to the defamation suit which could prove very difficult to answer.
MORE ON:
Celebrity Justice
Article continues below advertisement
The subpoena demands Anthony to appear at Morgan's Florida office July 19 at 10 a.m. to be questioned under oath regarding the civil case.
The deposition will be video-recorded - the subpoena was sent to Anthony's attorney Charles M. Greene.
Ironically, although Anthony is officially broke she stands to make a fortune from interviews, photographs plus film and book rights, after her sensational acquittal.
But upon her release Anthony has many hefty bills to pay including a $70,000 tax lien by the Internal Revenue Service from a $200,000 payment from ABC for rights to family videos.
In addition, she also owes investigative and court costs associated with her earlier check-fraud convictions.
Casey Anthony Trial: Tears & Laughter During Closing Arguments