Exclusive
Casey Anthony Juror: 'I Did Not Say She Was Innocent'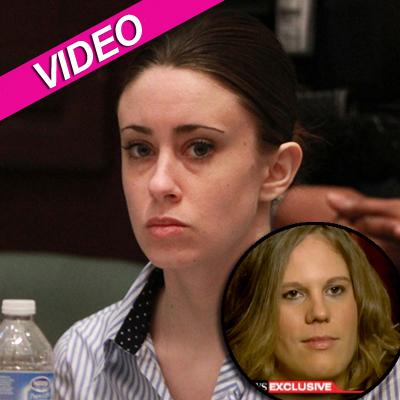 By Amber Goodhand - RadarOnline.com Reporter
Juror number 3 is Jennifer Ford, a 32-year-old nurse in-training at St. Petersburg College, who said that acquitting Anthony of the murder charges in the death of her 2-year-old daughter Caylee in no way means that she believes Anthony is innocent.
"I did not say she was innocent," Ford told Nightline anchor Terry Moran Wednesday. "I just said there was not enough evidence. If you cannot prove what the crime was, you cannot determine what the punishment should be."
Article continues below advertisement
The stunning verdict was delivered Tuesday when the jury of 12 found Anthony, 25, not guilty aggravated manslaughter and aggravated child abuse.
"I'm not saying I believe the defense," Ford said. "Obviously, it wasn't proven so I'm not taking that and speculating at all. But it's easier for me logically to get from point A to point B" in considering the defense's arguments.
Ford said the prosecution "didn't even paint a picture for me to consider" in terms of how Casey could have killed her child.
Asked about Casey's actions following her daughter's death -- not reporting it for more than 30 days, partying in that time, and lying to investigators -- Ford said that "bad behavior is not enough to prove a crime."
Ford said Casey's father George Anthony "did not help the state's case," due to his testimony coming off as "dishonest" and "evasive."
Article continues below advertisement
She said the fact that he seemingly switched allegiances from the defense to the prosecution during the trial further damaged his credibility.
"I don't know if he had anything to do with it, but I think that he was there," she said. "He and Casey have something."
Ford admitted it didn't feel good letting Anthony walk: "It was a horrible decision to have to make, but I had to do it based on the law. "
MORE ON:
Celebrity Justice
She said that the death penalty implications further weighed on her decision to cast a "not guilty" vote.
"You have to prove it ... or else I'm a murderer too, and I'm not any better."
Ford said jury members didn't speak to the media right away "because we were sick to our stomach to get that verdict.
"We were crying and not just the women. It was emotional and we weren't ready. We wanted to do it with integrity and not contribute to the sensationalism of the trial."
Article continues below advertisement
But despite the emotional toll this trial took on the jury, Ford said they tried to stay positive.
"They picked a great bunch of people, such high integrity," Ford said. "And there was high morale. We all joked.
"We are like a big group of cousins."
While there's been controversy over Anthony's acquittal, she was found guilty on four counts of lying to law enforcement officers, but is expected to be released following her sentencing on Thursday, as she's already spent nearly three years in custody.