Casey Anthony Prosecutor: 'I'm Shocked At Not Guilty Verdict'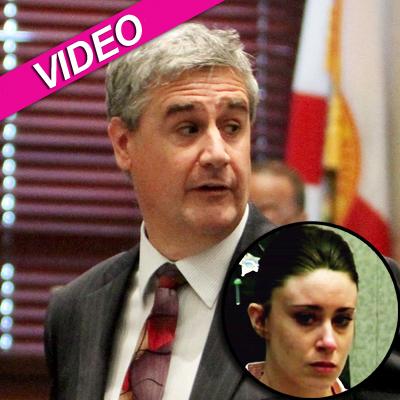 by RadarOnline.com Staff
The Florida prosecutor who tried Casey Anthony, Assistant State Attorney Jeff Ashton, told The Today Show on Wednesday he was "shocked" by the not guilty verdict handed down by the jury.
"We felt like we presented a really strong case," Ashton said, noting he didn't think a not guilty verdict was "realistic."
Anthony said when the verdict was handed down, "I think I mouthed the word 'Wow' five times ... you pour three years of your life into a case ... it was not easy to hear, but we know we did a good job, and we accept what happened."
Article continues below advertisement
Ashton said he was surprised that Casey's actions following her daughter's death -- not reporting the death for more than 30 days, partying in that time and lying to investigators -- didn't resonate deeper with jurors.
Watch the video on RadarOnline.com
"We felt that was one of the strongest pieces of evidence that we had in the case was that her actions, we felt ... we're just so completely inconsistent with just some accidental explanation for the death."
As RadarOnline.com has previously reported, after a 35-day trial choc full of harrowing testimony, a seven-woman, five-man jury in Orlando, Florida on Tuesday found Anthony, 25, not guilty of first-degree murder, aggravated manslaughter and aggravated child abuse in her daughter Caylee's 2008 death. She was however convicted on four misdemeanor counts of lying to police officers, for which she will be sentenced Thursday. Since she's already spent nearly three years behind bars, she could walk free with credit for time served.
Article continues below advertisement
Following the not guilty verdict, Ashton announced he is retiring after a 30-year career as a prosecutor.
Casey's defense attorney, Jose Baez, gives his first network interview since the verdict was handed down to ABC'S Barbara Walters in a special edition of Nightline, airing Wednesday night.
Visit msnbc.com for breaking news, world news, and news about the economy
RELATED STORIES: