George & Cindy Anthony In Hiding After Receiving Death Threats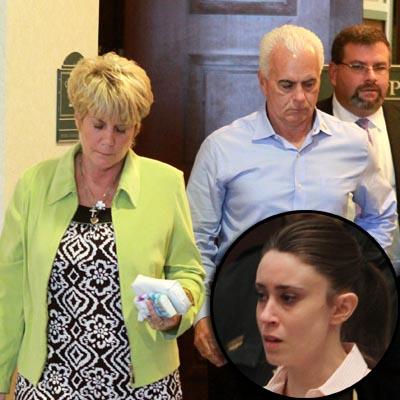 by RadarOnline.com Staff
George and Cindy Anthony are reportedly in hiding Wednesday after receiving death threats following their daughter Casey's stunning acquittal on murder charges for the death of her 2-year-old daughter Caylee.
Their attorney Mark Lippman said the threats against the couple were on the Internet and that the Orange County Sheriff's Office was investigating.
Lippman also said it was too early to know if the Anthonys would welcome their daughter back. (Until her arrest, Casey lived in her parents' home in Orlando, Florida). After all, Caylee's defense was built on the premise that George had sexually molested Casey as a child, causing her to disassociate from tragedy and that George had helped cover up the death of Caylee after she allegedly drowned in the family's swimming pool.
Article continues below advertisement
After the verdict was read in court Tuesday, George and Cindy were the first ones out of the courthouse.
The couple later released a statement through their attorney.
"While the family may never know what happened to Caylee Marie Anthony, they now have closure for this chapter in their life," Lippman said in the release.
"They will now begin the long process of rebuilding their lives. Despite the baseless defense chosen by Casey Anthony, the family believes that the Jury made a fair decision based on the evidence presented, the testimony presented, the scientific information presented and the rules that were given to them by the Honorable Judge Perry to guide them.
"The family hopes that they will be given the time by the media to reflect on this verdict and decide the best way to move forward privately.
"The family also wanted the public to know that if anyone wanted to honor Caylee by leaving stuffed animals or other toys at any area near their home, that they would prefer those items be donated in Caylee's name to families in need, religious centers, or any other entity where the toys would be appreciated," Lippman concluded.
Article continues below advertisement
While Casey was acquitted on three of the most serious counts, including first degree murder, she was found guilty on four misdemeanor counts of lying to police officers. For those convictions, she will be sentenced on Thursday. The misdemeanors carry one year terms, but since she's already been in jail three years, she could likely walk free and not be sentenced to serve any additional time behind bars.