EXCLUSIVE INTERVIEW: Teen Mom Amber Portwood Not Talking To Sick Dad, He Claims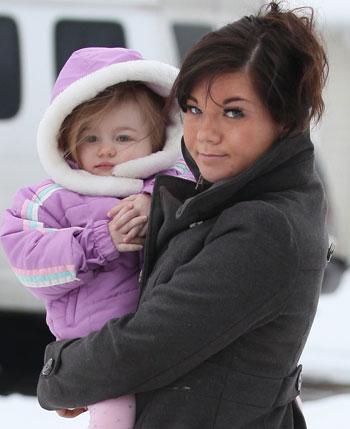 As Teen Mom Amber Portwood is working hard to reunite her family with baby daddy, Gary Shirley, and young daughter, Leah - her relationship with her sick father is crumbling, RadarOnline.com has learned exclusively.
"I'm ill right now," Shawn Portwood told RadarOnline.com exclusively.
"She doesn't call me, I don't call her."
After months of custody battles in and out of court, Amber has now rekindled her on-again, off-again relationship with longtime love Gary Shirley - to her father's surprise.
Article continues below advertisement
"That's wonderful," he said somewhat sarcastically of the Teen Mom stars reunion. "See what I know about my daughter?
"Whatever they want to do."
EXCLUSIVE PHOTOS: Teen Mom Amber Portwood -- Before She Was A Reality Star
Amber, 20, and Gary, 24, have had a tumultuous relationship since the violent episode of the hit MTV show aired last year showing the young mom hitting Gary - and at the time her father was quick to come to his daughter's defense.
Now, things have clearly taken a turn for the worse.
"She has her own life now. Amber is a busy girl I guess, and has her own thing going," a sad Shawn said.
When asked if he'd like to hear from Amber as he's ailing, he responded, "No, I don't have anything to say to her.
"It doesn't matter. Nothing matters."
A No Contact Order prohibiting Amber from contact with Gary has since been lifted, although Gary and Amber are not allowed to spend time together in the presence of their daughter, Leah, 2.