EXCLUSIVE INTERVIEW: 'Teen Mom' Chelsea Houska Advises 'Take Birth Control Seriously'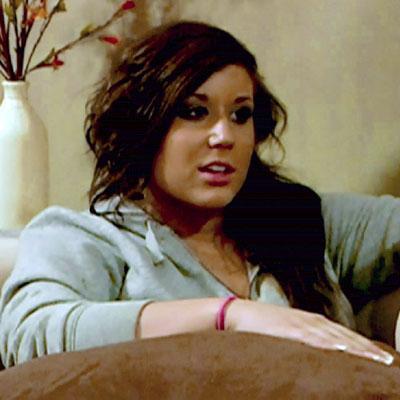 While Teen Mom 2's, Chelsea Houska is blessed with a tremendous amount of family support when it comes to raising her baby daughter Aubree, she still struggles with the pressures of parenthood, and she urges other teens not to be a hurry to step into her shoes.
In an exclusive interview with RadarOnline.com Chelsea talks about her day to day challenges as a young mom, her relationship with her baby daddy Adam Lindt, her plans for the future and her advice to other young wannabe moms.
Article continues below advertisement
The 19-year-old has faced a load of negative backlash for her continued relationship with unemployed and seemingly unsupportive Adam but she's committed to trying to carve out a future together and to working at being the best parents they can.
RadarOnline: If you could give advice to other teen moms and teens, what would you tell them?
Chelsea: I would tell other moms to stay strong for their child and always be there for them. Be the best parent you can be, and put your child before everything. To teens who aren't moms, just enjoy the time you have to be young, you only get one life, you have plenty of time to grow up and have kids. They should take birth control seriously, having a baby is really life changing, wait till you are married and have a stable career to bring a baby into the mix
RadarOnline: What has been the biggest changes in your life since you became a mother?
Chelsea: My life is completely different since I got pregnant! I grew up so much in such a little time. The things that I thought were fun before, aren't fun anymore, and the things I thought were boring before, are fun now! Even though a lot has changed, I realize there are more important things in life now. I don't feel like a 19 year old.
Article continues below advertisement
RadarOnline: Is motherhood what you expected it to be?
Chelsea: I'm not really sure what I expected it to be. I don't think I realized how much life would change when I found out I was pregnant. It is amazing how much you love your child right away. From the moment I had her, she's been the most important thing in my life. It's been a difficult, fun, emotional and rewarding experience.
RadarOnline: You have had an amazing amount of support from your parents, are they still playing an active role in yours and Aubree's life?
Chelsea: I am very lucky to have so much support from my family. My parents as well as Adam's parents will always play a big role in Aubree's life. It's important to me for her to stay close to everyone in the family. She's a very loved little girl!
RadarOnline: You have faced a lot of challenges in your relationship with your baby's daddy Adam, how are you doing as a couple and as parents?
Chelsea: It's no secret that we have had our ups and downs, but we are doing our best to work through it. I think it's been more difficult for him to give up being young and care free than it was for me, which is how it is for a lot of young fathers from what I've seen. I believe we are both still learning about life and being new parents like most people are with their first child. It's a growing and learning experience.
Article continues below advertisement
RadarOnline: Has your father become more accepting of Adam?
Chelsea: Not yet, that's going to take a while longer. My dad has seen me go through a lot with Adam, so I understand why he isn't accepting of him just yet. I'm just going to let them have space from each other and not try to force anything. I do believe one day they will be able to get along.
RadarOnline: Do your friends think Adam has changed?
Chelsea: Some of his friends think that he has changed and others don't.
RadarOnline: How have you been juggling school, and the baby?
Chelsea: I'm still not the best at juggling everything! It's been difficult for me, I'm late for everything, haha. it's definitely something I'm working on.
RadarOnline: Do you still have plans for beauty school?
Chelsea: Yes! I've wanted to do hair for as long as I can remember and still plan on it.
Article continues below advertisement
RadarOnline: As time passes are things getting easier or more challenging as a new mom?
Chelsea: I think some things get easier, but then new challenges always come up.
RadarOnline: What are some of Aubrees milestones today?
Chelsea: She is SO social! She is starting to repeat everything she hears! She loves to dance and is so goofy. she loves attention and she's always trying to get people to laugh. I love her personality!