PHOTOS: Teen Mom 2's Jenelle Evans & Others Arrested After Taped Fight -- See Their Mug Shots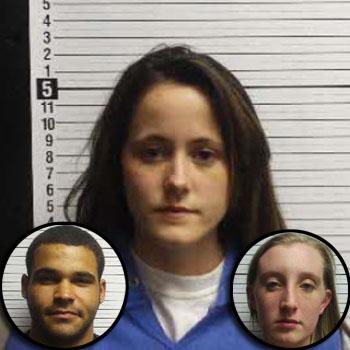 UPDATE: The Brunswick County Sheriff's Office, in consultation with the District Attorney's Office, reviewed all the evidence against Jenelle Evans, Brittany Maggard and Brittany Truett and decided to charge each of them with misdemeanor affray – disorderly conduct by fighting in a public place.
Teen Mom 2's Jenelle Evans was taken into custody late Sunday in connection with two misdemeanor charges of simple assault and simple affray (i.e., a physical altercation) and RadarOnline.com has her just-released mug shot for you.
Article continues below advertisement
The arrest stemmed from a video of Evans, 19, fighting a love rival named Britany Truett over a boy named Kieffer Delp, who was also arrested Sunday on an unrelated outstanding drug charge. In the clip, Evans is seen punching Truett (who'd pressed charges over the weekend) repeatedly in the face.
The North Carolina native -- who's forfeited legal custody of her son Jace to her mother Barbara in this season's edition of the MTV reality hit -- was apprehended by Oak Island Police and booked into Brunswick County Jail, where she was released at 11:25 p.m. ET on bond of $500.
Truett herself was charged with one count of simply affray; her bond was also set at $500.
Evans is the second Teen Mom in as many seasons to be arrested based on incidents caught before the show's cameras, as Indiana native Amber Portwood is currently facing a pair of felony charges in connection with her televised attack on baby daddy Gary Shirley.
Evans will face the charges in court April 26; in the meantime, you can see more of Jenelle when Teen Mom 2 airs on MTV Tuesday at 10/9c.