Exclusive
EXCLUSIVE: Child Services Brings Daughter Back To Teen Mom Amber Portwood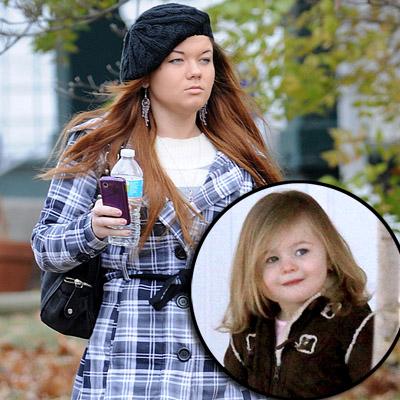 The Indiana Department of Child Services is reuniting Teen Mom star Amber Portwood with her two-year-old daughter Leah on Wednesday, RadarOnline.com has exclusively learned.
Portwood has primary custody of Leah, but after an arrest warrant was issued stemming from domestic violence charges by the Madison County Prosecutor's Office on Monday, Portwood spent the night in jail and a 'No Contact Order' forbidding Portwood from seeing her daughter was placed on her.
Article continues below advertisement
PHOTO: See Amber Portwood's Mug Shot
Despite conflicting reports, RadarOnline.com has confirmed that a judge modified the initial 'No Contact Order' -- that included her ex-fiancé Gary Shirley and daughter Leah -- on Tuesday during her arraignment barring her only from contact with Shirley.
Sources close to the situation told RadarOnline.com that Shirley kept baby Leah overnight on Tuesday, but that CPS picked her up and brought her over to Portwood's home Wednesday.
As RadarOnline.com previously reported, Portwood is under strict supervision by Child Protective Services and if they find that her living situation is unsuitable or that Leah is in any danger, she will "go back to her father."
Leah was temporarily placed with Shirley last month as well after Portwood was first charged by local Anderson, Indiana authorities with felony domestic violence for an incident that aired on Teen Mom in which she physically assaulted Shirley.
Article continues below advertisement
The case was then handed over to the Prosecutor's Office for review, who decided to charge Portwood on Monday with three felony counts of domestic battery and one misdemeanor count of neglect of a dependent.
On CBS' The Early Show on Wednesday, Portwood's lawyer, Bob Schembs, said the Teen Mom star that she's "doing pretty well. She's disturbed by all this, greatly. She's probably in shock to some extent, but she's staying strong and she's really trying."
Schembs said she's "a person who is completely able to take responsibility for her actions and care for her daughter. Contrary to what a lot of people probably believe, Amber's a very nice person, a very responsible person and a very honest person."
Despite Portwood being reunited with Leah on Wednesday, Schembs said that, if convicted of an of the felonies, she could lose custody of her daughter.
Shirley, he said, has a "cooperative" relationship with Portwood and hasn't actively sought custody.
Article continues below advertisement
The Early Show co-host Harry Smith commented that, as he looked at the scenes from the show depitching Portwood's attack on Shirley, he wasn't sure if "what I was seeing was real or if it was theater... Is there a way to determine that?"
NEW PHOTO: Teen Mom Amber Portwood Gets Tattoo Of Daughter Leah
"Well, that's one of the things we'll explore," Schembs responded. " ...That's a really unique approach to a defense of a case of this type and I think - any lawyer who defended it would look into things like that."
The 20-year-old's run-in with the Prosecutor's Office is just the latest in a string of legal woes for the MTV reality show star.
As RadarOnline.com exclusively reported, Portwood was pulled over by Indiana State Police on December 15 on suspicion of driving under the influence, but cleared after a breathalyzer and given a ticket for driving with a suspended license.
The holidays have been rough this year on the single mother, who also missed spending Thanksgiving with Leah after she became a ward of the state of Indiana after an emergency child placement hearing on November 24.
Article continues below advertisement