NEW PHOTO: Teen Mom Amber Portwood Gets Tattoo Of Daughter Leah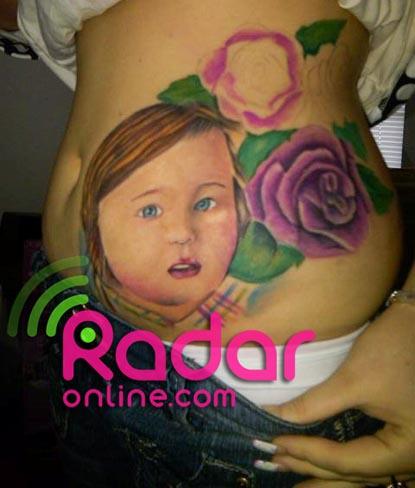 Controversial Teen Mom star Amber Portwood never wants to lose her daughter, so she recently took a dramatic step to prove it: she got a full-torso tattoo portrait of two-year-old Leah.
As RadarOnline.com discovered, Portwood is proudly showing off a colorful tattoo on the left side of her stomach featuring Leah's face surrounded by roses.
The ink appears to be unfinished, as there are still parts left uncolored with just the outlining.
Article continues below advertisement
According to a source close to the Indiana native: "she got the tattoo as a way to show her commitment to Leah" -- and so far it's her first and only tattoo.
The 20-year-old mother has come under immense scrutiny since she was charged with felony domestic violence for assaulting her baby's father, Gary Shirley, during an episode of the hit MTV show.
The Department of Child Protective Services was forced to get involved, placing the baby with Shirley for a short period before giving her back to Portwood after she purchased a new bed for her daughter and cleaned up her home.