'Teen Mom' Amber Portwood Released From Prison, Admitted Violence Not Staged For TV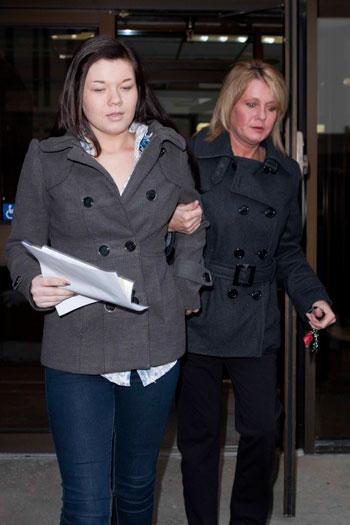 Teen Mom star Amber Portwood was released from an Indiana prison at 4:15 pm EST after entering a not guilty plea on Tuesday for several felony charges by the Madison County Prosecutor's Office. Charging documents claim that Amber admitted violent acts allegedly committed by Portwood against Gary Shirley were not staged for the MTV show.
DOCUMENTS: Read The Details Behind Amber's Charges
Portwood was charged with three felonies and a misdemeanor stemming from incidents with Shirley, the father of their daughter Leah.
Article continues below advertisement
Sources at the jail told RadarOnline.com that Portwood posted 10 percent of her $5,000 bail, allowing her to walk right out the front door on her own.
Paperwork filed by prosecutors says that Portwood admitted her violent incidents were not staged for MTV. She made this admission in front of her lawyer after having been read her rights, according to the paperwork, which also said she claimed to be under a doctor's care.
"She claimed the incidents were out of anger and were not staged for the reality show," the paperwork reads, detailing an October 20 meeting of Portwood, her attorney and police."She claimed to not remember everything due to some medical issues in which she is under a Dr.'s care for currently."
According to the paperwork filed at Portwood's December 28 arraignment, the 20-year-old mother of one will have the No Contact Order established upon her release from custody on bail or personal recognizance. A judge ordered her to have no contact with Gary Shirley. Earlier she was told she could not have contact with her daughter but the judge did not enforce that.
Article continues below advertisement
"Gary was really hoping that the order against both of them would be lifted today," a source close to the situation told RadarOnline.com.
"He was really upset last night because he didn't know the next time Leah would get to see her mother again."
Portwood was taken into custody Monday and placed on a 24-hour hold, which is standard practice for such cases in Indiana.
NEW PHOTO: Teen Mom Amber Portwood Gets Tattoo Of Daughter Leah