ROYAL FLUSH: Embarrassment For Camilla As Palace Pecking Order Dictates She Must Curtsy To Kate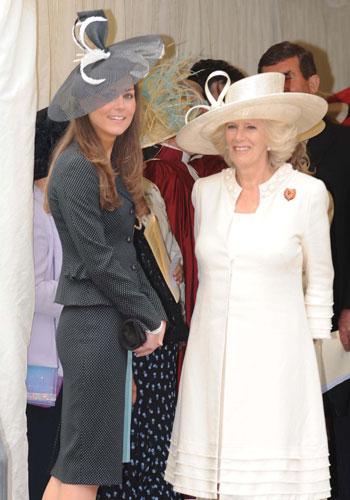 Prince Charles' wife Camilla Parker Bowles is poised to drop another etiquette peg down the royal pecking order when Prince William and Kate Middleton wed next spring, RadarOnline.com has learned.
A doctrine put in effect by the Queen stipulates that Camilla, the Duchess of Cornwall, will have to curtsy to Middleton, who is 35 years her junior!
The situation is complicated, largely hinging on who's present when the women are together: If William and Kate are in a room when Camilla is by herself, a curtsy would be expected from Camilla; if Charles and Camilla are in a room when Kate is by herself, a curtsy would be expected from Kate, one expert told UK newspaper Daily Mail.
Article continues below advertisement
In 2005, the Queen authored the private document, titled Entitled Precedence Of The Royal Family To Be Observed At Court, the year Camilla wed Prince Charles.
An ex-courtier said the move was a political gesture, made at the time to ease potentially uncomfortable exchanges between Camilla and Princess Anne and Princess Alexandra, both of whom had given "their adult lives to royal service and who saw no reason to pay respectful gestures toward at the time, a highly unpopular woman."
While Middleton will most likely have a "happy to be here" attitude, the ex-courtier said the curtsy issue could resonate with the handsome monarch-in-waiting.
King William? Polls Show Brits Want William, Not Charles To Be Next King
"Kate may not mind where she is on the totem-pole, because she'll want to please everyone," the courtier told the paper. "But William will mind, and I foresee difficulties ahead ... while William feels warmly towards Princesses Beatrice and Eugenie, he's conscious they are lesser royals. He will wish to see them behaving correctly towards their future Queen."
Article continues below advertisement
Here's the palace pecking order:
The Queen
Kate Middleton (if William is with her, otherwise she drops at least four places)
Princess Anne
Princess Beatrice
Princess Eugenie
Princess Alexandra
Duchess of Cornwall
Countess of Wessex
Lady Louise Windsor
Zara Phillips
Lady Sarah Chatto
The daughters of the Duke of Gloucester (Lady Davina Lewis and Lady Rose Gilman)
Lady Helen Windsor
William and Kate are slated to get married next year, which marks the 30th anniversary of his parents' legendary 1981 wedding.