PHOTOS: Kate Middleton's Childhood School Photos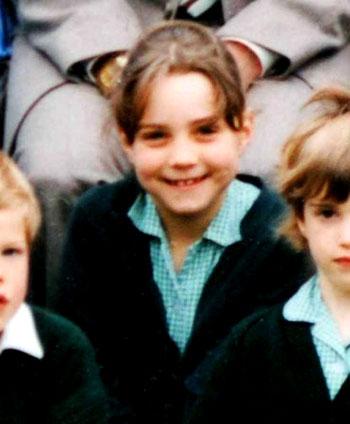 She's set to take on the role as the future Queen of England but before she even met her Prince, Kate Middleton was just another schoolgirl with fairytale dreams. RadarOnline.com has photos from her girl next door childhood.
While she is a fashion icon today, Kate blended into the crowd during her school days in England where a standard uniform is the norm.
In one photo, a very young Kate is seen smiling at the camera dressed in her checkered green and white blouse and dark cardigan.
Article continues below advertisement
A few years later, she stands with her St Andrews Prep classmates wearing a tie, white shirt and and deep V neck sweater, with her shoulder length hair worn loosely around her make-up free face.
NEW PHOTOS: Prince William & Kate Middleton Pose In London
One of her closest school friends, Jessica Hay said that even early on, Kate had a thing for William: "We would sit around talking about all the boys at school we fancied. But Catharine would always say, 'I don't like any of them. There's no one quite like William. I bet he's really kind. You can just tell by looking at him.'"